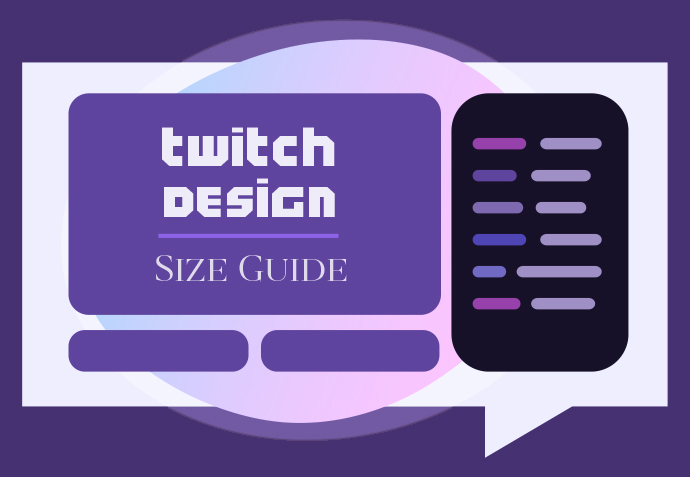 Ready to make your Twitch profile show what you're about? Use this Twitch size guide as a quick reference for Twitch profile banner sizes, profile panel sizes, emotes, overlays, and more. You'll also learn the maximum file sizes and other best practices.
Twitch Size Guide for Profile Design
| Graphic | Dimensions | File Size |
| --- | --- | --- |
| Twitch Offline Banner | 1920 x 1080 pixels | 10 MB |
| Twitch Panels | 320 x 300 max pixels | 2.9 MB |
| Twitch Cover Image | 1200 x 480px, 1200 x 380, 600 x 200 | 10 MB |
| Twitch Profile Picture | 256 x 256 pixels | 10 MB |
| Twitch VOD Thumbnail | 1280 x 720 pixels | 10 MB |
| Twitch Overlay | 1920 x 1080 pixels | 10 MB |
| Twitch Emotes / Badges | 112 x 112, 56 x 56, and 28 x 28 pixels | |
| Webcam | 1920 x 1080 pixels | N/A |
---
Note: Your files can be uploaded as PNG, GIF, or JPG — I recommend PNGs.
---
Where to Get Twitch Graphics
Twitch Tags: While you can always browse the art section of Twitch, don't forget to take advantage of tags. The stream tags Art Commissions and Emote Design are perfect for this.
Artist Shops: Check out independent Twitch artists like this one who lets you download designs instantly! There are so many artists offering custom work, but pre-made stream kits are budget-friendly for new streamers and affiliates looking for Twitch panels, overlays, and animations.
Fiverr: Fiverr has a dedicated Twitch section on their site, where Twitch designers and emote artists offer custom orders.
Canva: Canva is the easiest way to customize graphics on the web if you don't use graphic design software. If you buy overlays or mascots from an artist, but wan to add your own touch, you can use it to easily add text of your socials and any other icons and graphics from their huge design gallery. It's free, but they also offer a pro version with more designs! You can get a 30-day free trial.
Twitter: You can browse Twitter hashtags or just tweet out your own call for artists.
---
Twitch Panel Size
For Twitch panels, use a size of 320 pixels wide up to 300 pixels high. If your image is larger, Twitch will automatically resize it. Most streamers go about 100 pixels in height, but be creative! Tall panels are great to display sub emotes or other details about you and your stream.
Twitch panels are the only way to get images onto your Twitch profile sections. The panel images can act as headers, or be linked to a URL. It's up to you if you want them to be simple link buttons or to have text under each one.
Why do my Twitch panels look blurry?
If your Twitch panels are blurry, they've been compressed by Twitch and likely need a smaller file size. Save the file as a PNG and compress it yourself (meaning to make the file size smaller). If you can't do this, you can try PNGGauntlet. Another trick people try is making larger panels and uploading them so that Twitch shrinks them down with better results. In general, use good web image file hygiene: a simple color palette and using web colors, for example.
---
Twitch Cover Image Size
Your Twitch cover image (or profile banner) should have a size of 1200 x 480px. It appears at the top of your profile and can be opened or collapsed by clicking on your profile picture.
The cover image size can be confusing because it looks different on different devices and scales in size with the browser window. This can make the bottom of some banners disappear behind the video player. Sometimes, the chat being open can affect how the banner appears too.
A nice solution is to center your logo and any social media details in the upper half of your image. As of 2019, Twitch officially recommends 1200x480px for the cover image size. Still, some people use a 4:3 ratio rectangle anyway, so feel free to experiment.
Just consider that your cover image appears more places than your cover. It also appears:
Behind your profile details in chat when people click on your name.
In followers lists behind your profile avatar / thumbnail.
Double check that your banner is visible on as many views as possible: mobile, desktop, full screen, and with chat open or closed.
---
Twitch Profile Picture Size
Your Twitch profile picture should be 256 by 256 pixels.
Your Twitch profile picture, aka avatar, is important! It's going to show up in all these places:
On the sidebar for viewers to see when you're online.
At the top of your stream.
As your friends list icon.
In lists of followers of channels
On hover and click of your name in chat.
As the featured image of your stream if a link to your channel is posted to socials like Twitter.
The profile picture might be small in the sidebar and at the top of your channel, but remember how large it's going to be in link thumbnails. It's largest when your stream URL is shared to social media such as Twitter, Facebook, or in Discord.
---
Twitch Offline Banner Size
Your Twitch offline banner size should be 1920 by 1080 pixels. Your offline banner is shown on the video player when your stream is offline.
The offline banner is a great place to list your social media handles or your schedule. Just keep in mind that Twitch puts a shadow over the top and bottom of the offline banner, and you'd do better by centering your info.
---
Twitch Thumbnails for VODs Size
Twitch VOD thumbnails have a max size of 1280 x 720 pixels, and must meet a 16:9 aspect ratio.
Do you upload thumbnails for your VODs? It's easy to overlook, but it's a great way to highlight the best parts of your stream and get people interested in what you're all about. Don't forget about stream highlights, either — one segment of your stream, with a good thumbnail, can make for an awesome VOD library.
---
Twitch Overlay Size
Twitch overlays should be 1920×1080 pixels. Whether you're making your own overlay images, or setting them up using StreamElements or StreamLabs, set them to this size.
When using a browser source for images in OBS, you can also set this size. Learn more: How to Stream with OBS
---
Twitch Emotes Sizes
Twitch emote sizes are 112×112 pixels, 56×56 pixels, and 28×28 pixels. Twitch needs all three sizes to approve the emote. The same sizes apply for Twitch subscriber badges and cheer badges. Twitch emotes need to be .PNG files.
---
Conclusion
Use your Twitch profile images to create consistency and convey what you're all about. Hopefully, this Twitch size guide helped you set up your design. If you're ready to move to next steps, check out Privacy for Twitch Streamers to keep yourself safe, and Making Money on Twitch and Sub Goal Ideas that Work.
Have you seen any good Twitch designs that stood out from the crowd? Did I miss something, or is there anything you'd add to this list? Let everyone know in the comments below!