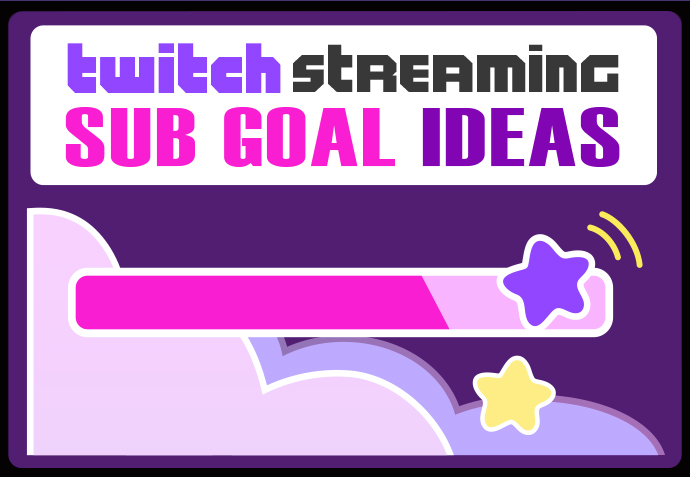 Ready to push for affiliate, partner, or just more subscribers? Riff on these Twitch sub goal ideas. The sauce is that they're fun and meaningful things to do for Twitch goal milestones of any kind. They work as follower goals, affiliate emote unlocks, path to partner status, or stream anniversaries.
(Posts may contain affiliate links that modestly compensate this site.)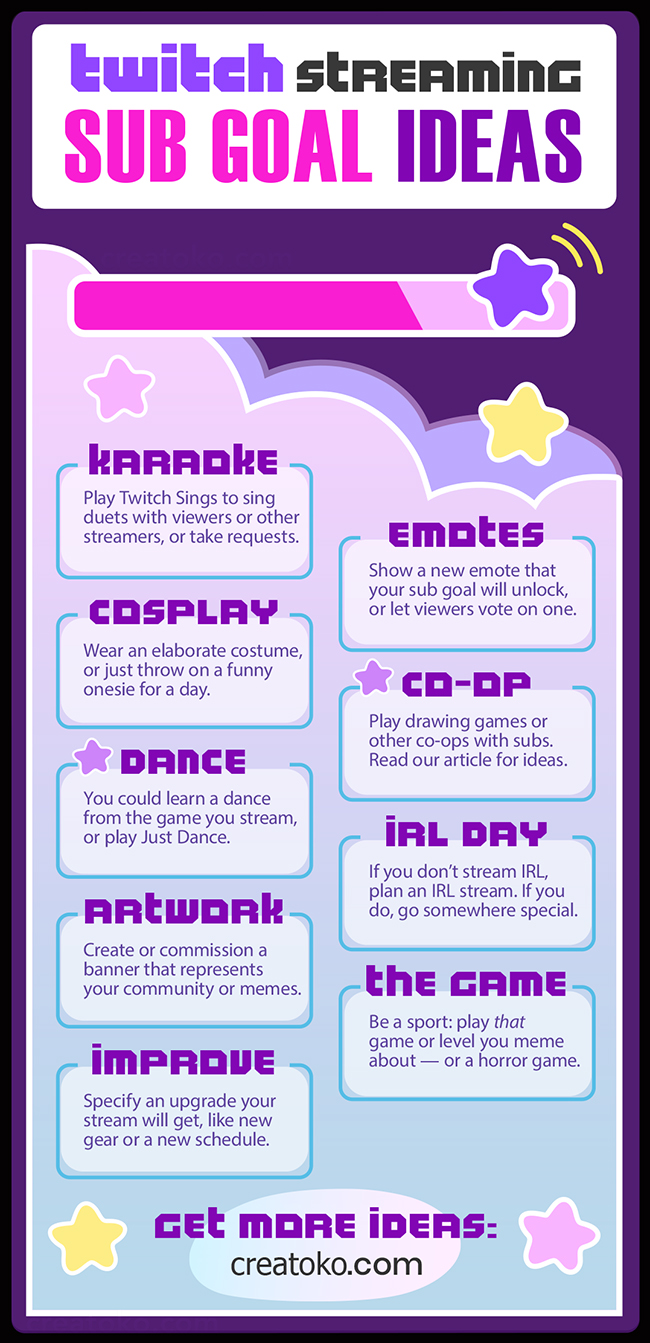 14 Twitch Sub Goal Ideas that Work
The best subscriber goals enhance your community's values and sense of humor. Don't be afraid to talk openly with your viewers about your streaming goals and milestones. Do they know what they are and why they're important?
Goals should also be fun. Take these subscriber goal ideas as inspiration, and throw up a sub goal overlay bar / sub counter widget to display! (Related: My list of Twitch Channel Point Reward Ideas and tips.)
---
1. New Emotes
Emotes are first on the list since they're the most tangible for viewers to understand. But I'd ask you to think of new ways to make emote goals fun. For example, make an emote before you've even hit your sub goal and display it with your sub goal bar. Alternatively, let them vote on what emote to make. The fun of "unlocking" a reward looks more tangible and within reach.
Twitch streamers unlock emotes at different sub counts. Today, affiliates get five basic tier emotes — each unlocked at sub counts of 0, 15, 25, 35, and 50. You could reasonably choose to make those your first milestone goals.
2. Hair Dye (or Style)
In fiction, haircuts show character development. So in your streamer's journey, maybe that's what your story arc needs as well. Use your imagination for cuts, styles, or colors. Theme a goal hair color as "partner" purple or green-screen green. Short hair? Shave something funny in. No hair? Dye your beard. Don't worry, it grows back.
3. Karaoke / Twitch Sings
Promise a karaoke stream where everyone can play. The free Twitch Sings game lets you sing karaoke, take requests from your viewers, and even do duets with them. Maybe they'll be blown away by your raw talent — or your jarring vocals. Either way, you've got yourself a show!
---
Get Quality Twitch Overlays & Stream Assets Instantly! Click Here


---
4. Cosplay
Promise to dress up for a special stream. An artisanal cosplay of a channel favorite works, but so does a costume onesie (aka a kigurumi). After all, artistry is fine but there's just something timeless about a grown adult in a zip-up unicorn suit. Do what works for your skillset and matches the level of your goal.
The best part of this one is you can mix it into the other stream sub goal ideas here: dress up as a special goal game character, or dress up to dance.
5. Dance
Okay, there might be a theme here: your viewers probably don't mind if you embarrass yourself a little. Keep it all in good fun and everyone's happy. So if you're down to let loose, there are a few ways to make the fine art of dance a stream sub goal:
Make it relevant by learning a dance from a game you stream (like Fortnite or Final Fantasy XIV), or one from a Kpop video, movie, or anime your community likes.

Barring that, there's always Just Dance. It's a party game available on several consoles, so go all in or fully embrace the awkward.
Double Points: Combine this with the onesie for max impact.
6. Community Games
Plan for a fun co-op day where the focus is on your viewers.
Drawing Games: Community drawing games are fun, if highly troll-able. Make sure you vet who's allowed to join your game — subs only is usually the way to go. Games like Drawful and Jackbox Party Pack are specifically for party streams, as only you have to own the game and anyone with the invite code can join.
Multiplayer: Set up a server in any game like your favorite MMORPG, Minecraft, Stardew Valley, PubG, etc.
7. Horror Games
Horror games are a live streaming staple. So let's see how you react to one. In the dark. With a heart rate monitor. Yeah, because that's a thing, too.
Ramp it up with heartbeat monitors or eye trackers.
8. Play That Game or Level
If you have a game you riff on or a level you ragequit, make the pleasure of watching you fail at it the stream sub goal. I mentioned viewer schadenfreude already, right? Don't have any running jokes about games you hate? Just go with a classic controller-breaking game and give the people what they want: your slow descent into madness. Some famously frustrating games include Getting Over It and Jump King.
On the other hand, you could just do a play-through of a classic community favorite.
9. Create or Commission Art
Promise and deliver an artistic portrayal of your stream and your community. Use your imagination or just go ahead and ask what your viewers would want. Maybe every sub could choose an icon or character to represent them, or you could make a joke or clip from your stream into a masterpiece. Nice, a Twitch sub goal idea that supports artists.
[See also: Twitch Profile Art Size Requirements]
10. Special IRL Stream
If you don't usually stream outside or do the Just Chatting category, debut your first such appearance. Think of it as a bonding experience with chat.
Already in Just Chatting or outdoors? Make the goal to stream somewhere special like an event, amusement park, or other attraction.
11. Movie Night / Watch Party
Movie nights are a fun way to spend time with your community off-stream every now and then, but you could just as easily make it a sub goal. The current platform of choice for watching videos together is Kast.gg. Just sign up, create a group, and send an invite link to your subs.
12. Stream Improvements
All the talk of gimmicks can't take away from genuine and transparent explanations of your goals. The wholesome truth is your supporters want you to do more of what you do, and do it well. If you can name the exact impact they can have on your progress, they'll have tangible reasons to rally behind you. (This is even more true for justifying stream donation goals.)
Remember, stream improvements could be anything from new equipment to your ability to stream more frequently on a set schedule. Explain exactly what the new benefit will be.
13. A 24-Hour Stream
Some streamers use 24-hour streams as a reward for hitting the goal, while others use it as a push to hit their goal during the stream. Just be very prepared. These streams push the limits of exhaustion, and might not be fun, much less necessary, for you.
14. Giveaways
Giveaways take some consideration. On one hand, an offer of free stuff could bring in people who won't stick around. Just the word giveaway in a stream title can bring in a surge of viewers who vanish after. But if used to either show appreciation to your loyal viewers, or to bring in new social media attention, they can be great.
Try to keep the giveaway prizes relevant to your stream topic, like merch related to the game you play, or tools related to your craft. Then the new people you bring in have a better chance of checking out what else you do, and possibly sticking around. It's basically part sub goal, part advertising cost — but if the giveaway is part of a sub goal, focus on your loyal base. You can do giveaways with Nightbot.
---
Get Quality Twitch Overlays & Stream Assets Instantly! Click Here


---
Things to Avoid With Stream Sub Goals
When setting sub goals, just remember to do what makes you happy and energized! If you're not excited about a certain sub goal reward, don't set it. Streaming can be a taxing form of content creation, so check in with your energy to avoid burnout.
Of course, it goes without saying not to go too far. Things like heavy alcohol consumption can put yourself at risk as well as break TOS. Be wary of things that could hurt yourself or others, not to mention your Twitch account. When setting Twitch sub goal ideas, follow the terms of service — and that also goes for Mixer, YouTube, or any other live-streaming platform.
---
Finally, A Few Extra Tips
While working on your stream sub goals, remember the fundamentals of steady stream progress:
Keep a reliable schedule.

Be consistent not only in schedule, but in your channel's tone and atmosphere.

Sub goals, follower goals, and other goals are also best when they seem in reach.
Boost your stream's overall engagement. Read: How Streamers Make Money