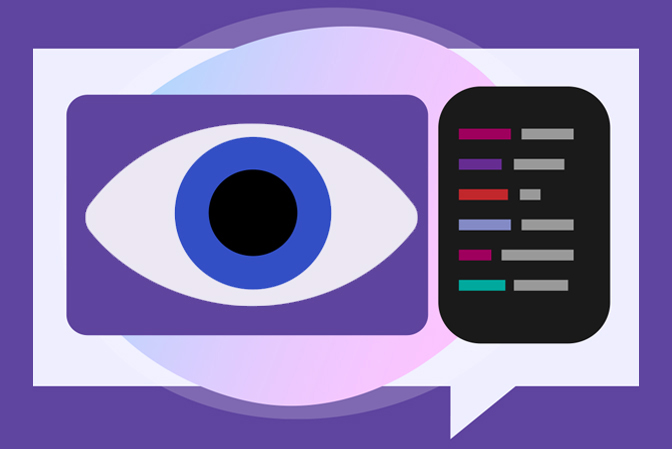 Streaming on Twitch or YouTube, but wondering how to protect your privacy so you don't get doxxed? Do you want to hide your real name, address, and other details? What should you keep private from your stream?
Live streaming's thrill is in connecting people beyond old limits. In an increasingly disconnected world, you can connect everywhere instantly — and live.
But with the thrill are the typical risks of an anonymous audience, and safety and privacy concerns inevitable rise. Some possible privacy breaches affect streamers specifically that may not be an issue for other content creators.
So how do you protect your identity, address, or data? Whatever your comfort level is, you can use the following pointers to check that your privacy is where you want it to be.
(Posts may contain affiliate links that modestly compensate this site.)
Protect Yourself as a Twitch Streamer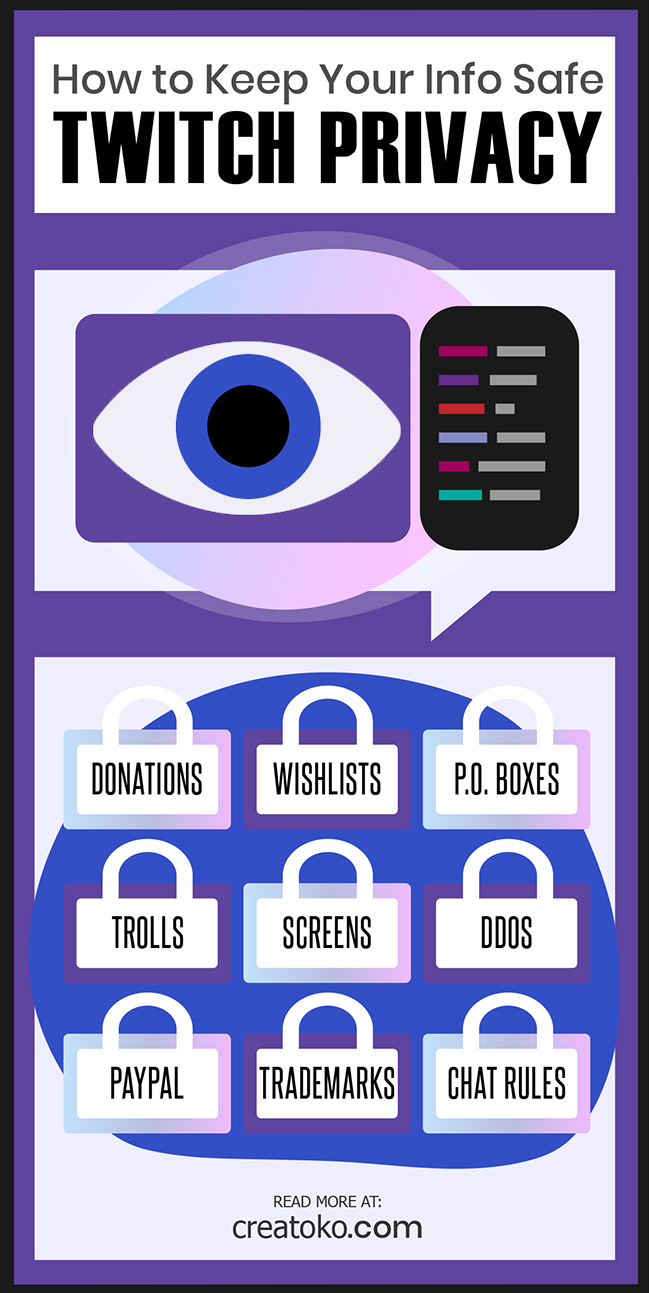 Live streaming lets you connect with people everywhere, instantaneously, and live. But with any online audience, privacy concerns emerge. How do you protect things like your real name, address, or general data? Here are some points to keep in mind.
1. Hide Your Name and Address on Amazon Wishlists
To keep your name and address private with an Amazon wish list, use a separate account under your username and disable third party sellers.
Make a separate Amazon account only for Twitch using your Twitch name.
Disable purchases from independent sellers, as these can reveal your details. Go to Wishlist, then settings, and uncheck the box for independent sellers.
Use your Twitch name instead of your real name, and provide a P.O. Box as the address. (Link: USPS instructions on getting a P.O. Box.) Make sure your P.O. Box details include your Twitch name for receiving packages.
Consider using a platform like Throne.
If you have a registered business entity for streaming, you can use those details. (More on registering businesses and trademarks privately further down.) (Set it up with BetterLegal in 10 minutes or less.)
---
2. Twitch Donations Can Show Your Real Name
Streaming apps make it easy for Twitch viewers to send PayPal tips to streamers. But is it private for either party? Not really.
Anyone can go to their PayPal account and see their transaction history. Even if the tips were sent through a streaming app like Streamlabs, people can see the real names of people they tipped. And you can see the names of people who tipped you. It's usually the real name.
Solutions?
Read more here about making money on Twitch.
---
Get Beautiful Twitch Overlays & Stream Assets Instantly! Click Here


---
3. Don't Click Links in Chat – Some Get Your IP Address
Twitch trolls can get crafty by posting links in chat that are only meant to log your IP address and location. Be sure to use a VPN service to hide your location like NordVPN. While an IP won't reveal your street address, it can reveal your city, service provider, or in some cases a campus you're on. IP grabbers can help malicious users to stalk, troll, or dox streamers.
Can someone get my IP from Twitch?
Twitch itself doesn't allow anyone to see your IP address, but bad actors online can still try to trick you so they can view it. Usually, someone in a Twitch (or YouTube) chat has to post a link to a separate website that grabs your IP address. Your IP address might reveal your general location, network, campus, and internet service provider. Ban links in your stream's chat or use good judgment. Here are five good ways to protect your IP data:
You have a few options to protect your IP address:
Make it a policy that viewers don't post links in chat
Allow only subs to post links
Have moderators receive links and decide whether to post them in chat
Use Chrome extensions like BTTV to preview a URL with a mouse hover
Use a VPN service to always hide your IP address online.
A VPN, or virtual private network, is a necessity these days for private browsing, gaming, and streaming. A VPN hides your IP address and location, and lets you pick different countries to connect to. I use NordVPN. They have a one-week trial or a one-year bargain rate, so there's only a couple of dollars between you and your web privacy.
---
4. Don't Let Alexa Betray You
It's part hilarious, part terrifying, and altogether real. Alexa doxes people.
Streamers have had their locations revealed by their Alexa and Google Home devices, and the clips of it are on Youtube and LiveStreamFail.
Asian Andy's viewers used the text-to-chat feature to make Alexa reveal his location. The chat used commands like "Alexa, call mom" and "Alexa, call me an Uber." And then finally, "Alexa, what is my current location?"
The device answered. But at $3 per troll command, at least there's that?
---
5. Keep Your Address Private on Twitch
Are viewers asking you to open a P.O. Box so they can send mail? It's a common request, and can be a lot of fun!
Get a P.O. Box that's only for Twitch mail. Don't intermingle other personal mail with it. If you want to be extra careful, get the P.O. box under a business name. The American USPS keeps names private, but it's an extra precaution.
Some streamers post photos or streams of themselves picking up their mail. I'm not convinced this is an amazing idea, personally, but everyone has their own comfort level.
---
6. Trademark Your Twitch Name Safely
If you ever decide to trademark a good Twitch username, you could accidentally give away your real name and address.
Registering a trademark in the U.S. makes the registrant's name public record. Those records can quickly show up at the top of Google results.
So if you want to trademark but remain private, think about filing it under the name of a business formation such as an anonymous LLC.
File for an LLC online: Do you need a separate entity (LLC/corporation) for your business? Set it up with BetterLegal in 10 minutes or less.
---
7. Have a Plan for Personal Questions
You're going to do a lot of talking when you stream. When you start out, it might be mostly about you. And you're going to field questions from viewers. That's all good, but have you thought about where your boundaries will be?
Spend some time planning for how many details you'll want to share. Things like how specific or vague you'll be about where you live, your name, birthdate, and anything else meaningful to you. It's amazing what a person can find out from just a few details.
When chat asks you personal questions, have some stock answers on hand. If you decide there's something you won't talk about at all, make it clear in your chat rules.
For the most part, it's best to evade questions you don't like with humor. Joke around while dodging the question and they'll get the idea. Have mods ready to back you up if needed.
---
8. Personal Information Leaked by Twitch Chat
A challenge of livestreams is being responsible for other people in real time. Trolls show up just to say bannable words, so it's not a stretch to be wary of people posting your info. It happens more than we'd all like.
Obviously, have mods ready to respond to and delete anything personal. And don't feed the trolls by giving them the reaction they want. Stay cool and collected.
Don't confirm when someone has your personal info right by calling it out.
Make it your policy that anything that looks like personal information about any person will be removed.
You can block certain terms from chat in your Twitch settings, but don't block anything that would raise questions. If someone's trying to type Bob and your name is Bob, it could be about their bobtail cat or Bob Saget.
Finally, make sure your real-life friends who watch your stream know where your boundaries are, too, so they don't say too much when they thought it would be harmless.
The following can help prevent trolls from getting your details in the first place:
---
9. Practice Good Data Hygiene
Regularly search your real life name, and ask any directory sites to remove you. Look for each site's "opt out" instructions.

Search your Twitch username regularly. You can set up a Google alert to be notified when it shows up somewhere new online.

Keep everything that uses your username separate from any real life info.

Set up social media accounts separate from your real ones with fake information.

For your real-name social accounts, lock them down with privacy settings.

Use different pictures for your personal social accounts and ones you might post on Twitch-related social media. Google's reverse image search feature makes it easy for people to connect the two.
---
10. Privacy Risks When Screen Sharing
If you show screencasts of websites or apps, you should practice your setup first and be aware of the things that can inadvertently pop up on your screen.
For example, if you surf the web, watch out for sites that reveal your location. Even those annoying geo-targeted ads could pop up and call out the city you're in.
Use standby screens. Have a starting, BRB, and ending video you can easily switch to in OBS. (Best ways to use a stream starting soon video.)
Try using the Brave browser. You can set it to block third-party cookies and to block ads and use it as a separate browser only for streaming.
Practice your setup with multiple monitors, and have one monitor specifically for screencasts. Arrange your windows so that you can preview what goes on the live monitor first. Keep that display clean of any file-browsing windows.
Get a good VPN service to mask your browsing location. Try NordVPN here.
---
11. Travel, Outdoors, and IRL (Just Chatting) Streams
Do you carry around a tripod and talk to a camera as you go about your day? Okay, I jest — the category covers a lot more than that — but regardless, take extra measures to avoid filming private things like your address.
Cover your camera lens when you're going home to conceal your neighborhood and doorway. This could apply to train station exits and other landmarks as well.
If you open stream gifts live, use a sharpie to mark out your address on the packages first.
Stream snipers can also show up in person, so it's a possibility you should be realistically prepared for.
---
12. Getting a Website? Use Domain Name Privacy
If you decide to get a website or blog for your Twitch and register a domain name, add the privacy feature called WHOIS protection to your registration. It's often free — I snag my domain names with Namecheap, and privacy is included for free with their already cheap domains. Just check the box next to "WHOIS protection."
Without this setting, your personal info will be listed publicly where anyone can look it up. Websites that crawl such data will pick it up and list it on other sites with your e-mail address and possibly address. You'll probably also get telemarketing calls — so it's a must, no matter what your website is for!
---
13. Dealing with Privacy on Discord
Most people post a public link to their Discord servers so anyone can join, and separate out sub-only sections.
But in come cases, like with huge audiences, the Discord can be sub-only or invite-only altogether.
Issues with Discord arise when trolls decide to join a server in droves to spam it with unfun images and attitudes.
---
14. Avoid DDoS Attacks
A DDoS attack is a denial of service attack that blocks someone from using a web resource. They're usually done by getting a gamer or a streamer's IP address and flooding their network so they get dropped from their internet connection and game.
Certain software or systems have been exploited in particular. For Twitch streamers, a Skype account attached to your Twitch email can present an opening for attacks. It's better to use use Discord instead.
---
15. Consoles and Privacy
If you play on console and stream through a capture card, you might not want viewers to see your PSN name, for example. Try to make an account just for Twitch. If not, at least avoid showing the menu screen. There may be some benefit to at least change the name that shows at the top of the menu — it's not actually your username.
---
16. Respect Others' Privacy, Too
And now for the other side of the story. Privacy goes both ways! Respect your viewers, other streamers, and fellow members of chat.
Don't call out lurkers in your chat. It's a basic Twitch etiquette rule not to call out that person who's in your viewers list but not chatting. They could be channel surfing, falling asleep, multitasking with some background noise, or anything else. Whatever the reason, this would just scare them away.

Avoid streaming other people without their knowledge and consent. In 2018 an Uber and Lyft driver caused a

scandal

when he streamed his passengers without their knowledge.
---
Get Cute Twitch Overlays & Stream Assets Instantly! Click Here

---
Twitch Privacy Takeaways
Above all, have a plan in place before problems get out of hand.
And if you really want to be private, you can hide your entire face by streaming as a VTuber.
Takeaways: We've talked about setting up accounts so that you don't accidentally give out your name. We went over setting boundaries for your channel. We've also talked about the unexpected ways devices and websites can give you away. And of course, about not giving trolls the reaction they want.
Privacy on Twitch, YouTube, and Mixer isn't a light topic. Issues can range from harmless trolls to more serious problems like stalking, doxxing, and swatting. Check out this video about smart precautions you can take to protect yourself if you're getting threats.
---
Your turn: Do you have any stories about your own privacy while using Twitch?
Or do you have any good ideas you use to protect yourself as a streamer? Please let me know in the comments below, or get in touch if you think there's something this article missed!
Safe streaming, and cheers to the streamers and amazing platform that is Twitch!