Animated stream starting soon videos keep viewers off the back button, hype your projects, and make going live easier. Luckily, you can set one up in OBS free for Twitch, YouTube, or other platforms.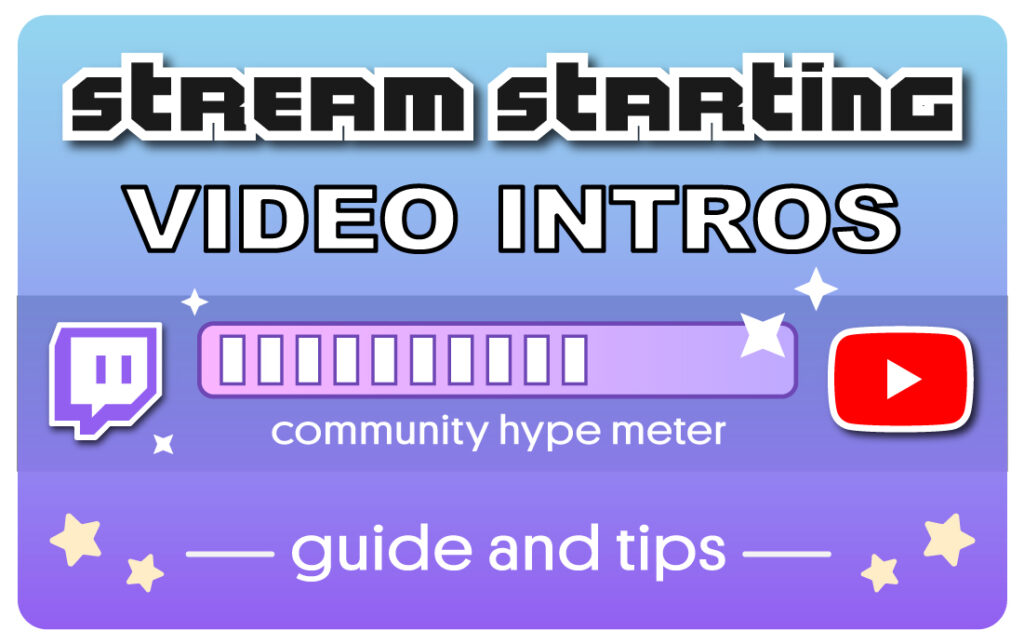 Why Use a Stream Starting Soon Scene?
A "starting soon" video hypes viewers to greet you with a warm chat that's already moving. Much better than opening cold and talking to dead air!
Not only is going live easier, but the scene can get more social media followers, announce goals, and more all while you have extra time to set up.
---
Best Stream Starting Video Ideas:
Though all a starting soon video needs is text that you're going live, you'll pack more punch with these tips to get more engagement and follows:
Use a Countdown Timer. Give yourself time for technical difficulties and give chat time to start moving. If you don't use one, try to be consistent! You can add a countdown timer as a widget with StreamElements.
Write Today's Event. You can add text in OBS itself to make this fast every time. You might think it's enough in your stream title, but helps with highlights, VODs, and YouTube uploads from Twitch!
List Your Socials. This is a nudge to get people to click follow on Twitter, or to check out a Patreon! They can be a part of the design, or text in OBS.
Use Animation. This is a visual cue that the stream really is live, rather than just having offline background art up. Get more tips on this below!
Play Music. Another clue that your stream is really live. It adds to the atmosphere and keeps the chat in the right mind-frame for your stream.
Show Goal Progress. If you have a subscriber goal, charity event, subathon, or you're hiring, write it! Chat also gets a topic while they wait.
---
Should My Starting Soon Scene be Animated?
Animated stream starting videos aren't just for fun! Viewers don't mistake it for a regular offline background and leave. But isn't animation expensive? you ask. Don't worry! You have more options thank you think.
How to Get an Animated Starting Soon Video Pack:
Buy a pre-made animated starting soon video or standby scene pack from an artist's shop. It's cheaper than custom-made, but you still get to pick something for your aesthetic.
Use a free option from StreamElements when you set up your stream. Just connect your Twitch or YouTube account to StreamElements.com and navigate to the overlays browser.
Commission a personalized one. The cost will depend on the skill and experience of the artist and whether they re-use templates. If your order is involved or has a lot of moving parts, don't expect it to be cheap.
For the most budget animation, throw a GIF or two over your scene. Voilà!
---
Download a Free Scene, Buy Premium, or Order Custom
And as the first thing people see, your starting soon screen is your chance to set the tone for your stream. But take it easy and match your budget to your journey from beginner to pro! The more established you get, the more stream assets you can integrate with your branding. But early on, it's easy to set up assets that represent you, even for free.
How to Get a Starting Soon Video as a Free Download:
The fastest way to get a free starting soon video for your stream is by connecting your Twitch or YouTube to StreamElements.com. They have a huge selection of templates you can customize. Move parts around and add your own details.
At Creatoko we support indie creators, so check out the many streamers offering free stream asset downloads. You can find them on Gumroad or Ko-fi, which they usually link to from Twitter for freebies.
How to Buy Pre-Made Stream Starting Soon Videos:
Artists in the streamer community sell pre-made stream assets, too. With these pre-made packages, you get a professional stream when you're not ready for custom-made prices.
The higher the quality and the more that's included, the more they cost. Especially if they are painstakingly animated. They often come with multiple scenes, overlays, and Twitch panels, and you can download them instantly!
How to Commission a Custom Stream Animation:
Once you're ready, you can commission an artist in the streaming community to make something perfect, just for you, with all your channel memes and references. You can even get cute backgrounds with art of yourself in the scene!
Remember that commissions can get expensive depending on the work, and that commissions are a luxury rather than a necessity. Focus on your streaming persona and content before you buy anything expensive, and work up to it.
Warning: Avoid Stream Asset Scams and Stolen Art:
Don't ask for commissions directly on Twitter like a call for artists. This winds up flooding your replies and DMs with bot accounts spamming you to sell you re-made, stolen, or unoriginal work under a false alias.
Use the same care on sites like Fiverr. There are lots of genuine artists on these sites, but just as many fakes. Be wary of generic designs or too-good-to-be-true turnaround times. Can they really animate that fast?
---
How to Make an OBS Stream Starting Screen
Get your artwork from an artist or use a stock site like Canva.
Go to StreamElements and add it to their overlay library.
Use StreamElements to add chat or other goal widgets.
Open OBS and create a scene, then add a "browser source".
Paste the URL from StreamElements into the Browser Source.
Check the box that says "loop" to make it a looping animation.
Learn more: How to Stream Using OBS and StreamElements
---
Starting Soon Video FAQs
What Music Can I Play While My Stream is Starting?
The best music for your starting soon scene will be a royalty-free music playlist, game soundtrack, or a theme song of your own commissioned from a composer or other music artist!
How do I add a Start Soon Screen on Twitch or YouTube?
To set up a starting soon screen on Twitch, and other standby videos, you just need to add a new scene to OBS and then upload the video source. Make sure you check the box next to "loop."
Do I Use a Stream Starting Soon GIF, Mp4, WebM or other File Type?
The usual file type for an animated scene will be a WebM, which most stream sites like StreamElements and Streamlabs specifically ask you to upload. They have a low file size but retain a high quality. GIFs are low quality and can have size/time limits. Don't download stream GIFs from Tenor or gif sites — you'll often just find stolen art with text on top. Stay out of copyright disputes and respect your brand as well as the original artist. As for mp4s, in cases of actual video content, music videos, and longer form supercuts they can be perfect. But a short loop animation is best as a WebM file.
---
More Aesthetic Stream Tips
Your starting scene is just one aspect of your stream design for Twitch or YouTube, etc. It's not just branding: remember it's supposed to be fun — for you and your community!
You can apply the tips above to your other scenes. If viewers drop into the middle of your stream, a BRB scene keeps them in place and talking in chat. For Twitch offline banners, show where else to find you (your Discord and social URLS).
If you need something now, check out the stream packs you can download right away at this banner here: