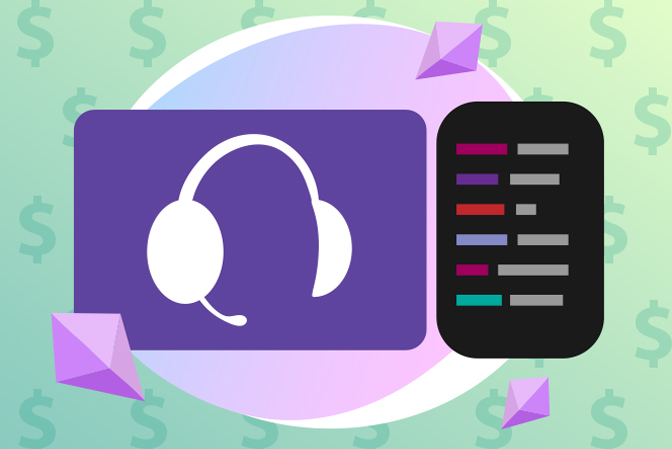 When you're writing about how to make money on Twitch, you want to answer the question without missing the point. Twitch is meant to be fun first, and the numbers take care of themselves. Right?
(Posts may contain affiliate links that modestly compensate this site.)
Just make content you're proud of.
It's no lie. Most advice boils down to building a good community for your viewers that makes the stream fun for everyone.
But if you're already doing that, you can enhance those good times and make it fun for your viewers to support you.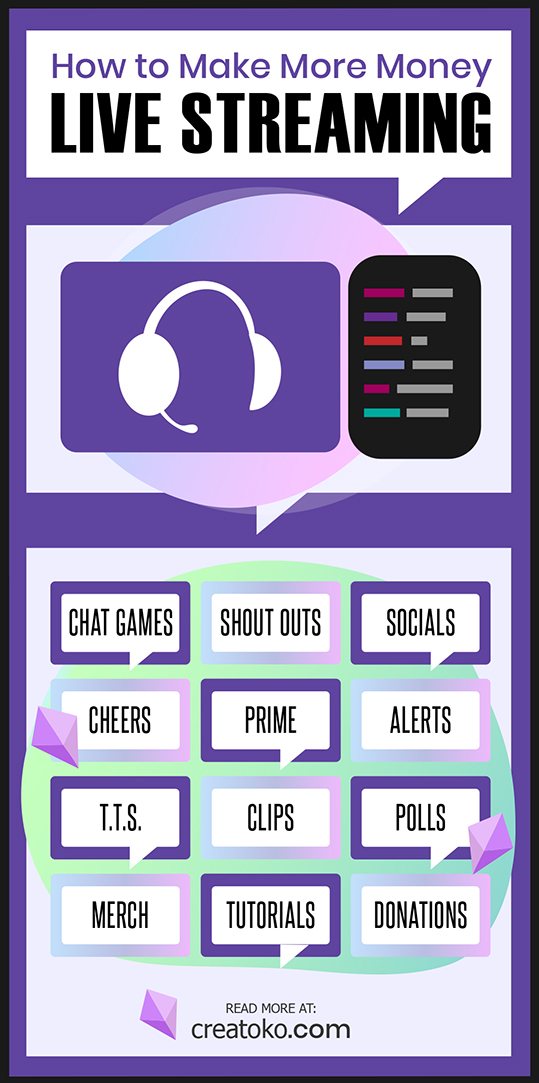 How to Make Money on Twitch
If you're new to streaming, this guide will show you exactly how creators make a living doing it. If you're already streaming, let's look at creative ways to grow.
Note:  Would you like to help make this a great resource? Please send a friendly message if you have an idea, or if I've missed anything or something has changed. I'll be updating this guide regularly.
---
Become a Twitch Affiliate
Requirements to get Twitch Affiliate:
It's relatively simple to reach affiliate status. Within the past 30 days: stream on at least 7 days, with 500 total minutes of stream time, and an average of at least 3 viewers per stream. You'll also need at least 50 followers.
Signing up: Once you meet the requirements, Twitch will email you an invitation. From there, you'll agree to the terms and provide information for receiving payouts, including your tax info. Now you're ready to start making money on Twitch with these perks:
Twitch Affiliate Benefits:
Subscriptions:

Now your followers can subscribe to you for $4.99/month. Subs are the heart of Twitch income.

Emotes:

You can now submit one subscriber-only emote for your chat.

Cheers with bits:

You can cash out the Bits that your viewers "cheer". You will get 1 cent per 1 bit you receive. Encourage more cheers with tools we will talk about below.

Game sales:

If you play a game available on Twitch, a button to buy it will appear automatically. You don't need to do anything. Sales from the button will earn you a 5% commission. Your viewers will also receive bonuses for buying it through Twitch.

Payouts:

Cash out your bits and subs every 60 days.

Ads not available but may be coming soon

, according to Twitch's help pages on Oct. 31 2018.
After affiliate, you can make partner.
---
Become a Twitch Partner
Requirements to Get Twitch Partner:
Within the past 30 days, you should have a minimum of 25 streamed hours, on 12 different days, with an average of at least 75 viewers. Details from Twitch's website conflicts about if you need a certain average viewer count, so there may be circumstances that don't require one.
The best thing to do is to work your way through the Path to Partner Achievement in your dashboard. Meeting the requirements doesn't guarantee you make Partner. You'll just be able to apply.
Twitch Partners get these added perks:
Ads become available to streamers who get Twitch partnership. Choose to enable them for non-subscribers, and set times for them that don't interrupt your content and annoy your viewers. Twitch will tell you the percentage you get in a contract they'll draft for you specifically. Ads are usually not the most lucrative part of streaming anyway.
Reruns and video premieres

can be streamed from your channel. This new rule started in September of 2018. It's a good way to keep interest while you must be away or break schedule.

Custom cheermotes:

Custom graphics for your Bit cheers.

VODs:

Past streams can be stored as VODs for up to 60 days.

Quicker payouts:

Receive payouts from bits and subs every 45 day.
Tip: If your application for Partner is denied, follow up and just ask why. Embrace the opportunity to get valuable feedback. Try again later. Not a week later, but after you've had time for significant improvement.
---
How Do Streamers Make Money on Twitch?
Twitch streamers with affiliate status earn about half of each $4.99/month subscription, plus a percent of their bit cheers, and any PayPal or other tips they receive.
Partnered streamers' income share is privately contracted between the streamer and Twitch.
Streamers also earn commissions on Amazon purchases made through their gear lists.
Of course, there are also ways Streamers can make money that aren't through Twitch, including third-party merch, putting up a Paypal donation link, cryptocurrency donations, and Amazon wish lists. Continue reading for more on those!
How Does Twitch Pay Streamers?
Twitch pays streamers revenue earned from subscribers, bit cheers, and ad revenue. Twitch offers payout options including direct deposit, wire, check, or PayPal. If you haven't specified a payment method or have one disabled, money will be held until you select a new option.
When Does Twitch Pay You?
Twitch sends payouts every 45 days if you're a partner, or every 60 days if you're an affiliate. The payment is sent that number of days after the last day of the month in which the money was earned.
One streamer I asked how to make money on Twitch with the least hassle talked about payout times. Cash donations get to you faster than bit and sub revenue. Donations go straight to your PayPal account, and are good immediately (as long as no one disputes the charge).
---
How to Get More Bits and Subs on Twitch
Twitch's appeal for viewers is being part of a live event. Interact with your chat and engage them whenever you can, and always show appreciation.
There's no shortage of ways to make sending bits and gift subs more interactive for your viewers. And it's easy to do with panel extensions like leaderboards, spin wheels, and special sound alerts.
Breakdancing streamer JoeyKaotyk did a backflip when I subbed to his channel. I then got my own bot command to show the clip of my specific backflip, good for as long as I'm a sub. That's just one example of a creative incentive that keeps new subs coming.
Now, there's no need to be a jedi master. You can also read out subs, resubs, and donations with your thanks! I've seen people use little extra touches like special microphone effects to doing a little dance. A little acknowledgement goes a long way on Twitch.
Leaderboards / Hall of Fame
Subscription Gifting Leaderboard: This panel shows the names of your most generous viewers. They're ranked by the number of gift subscriptions they've passed out.
Bits and Loyalty Leaderboard: This leaderboard from Streamlabs ranks bits and their loyalty points at the same time. This one from StreamElements can rank bits, chatters, subscribers, points, and a lot more.
Play a Live Spin Wheel Game
Streamlabs has a spin wheel widget that streamers use in just about any way, but often for rewarding viewers. Other apps have spin wheels as well.
Some streamers spin the wheel to give away a gift sub for every X amount of people who subscribe. Others use the wheel as a reward for bit cheers, with different rewards listed on the wheel. Both ideas get viewers invested in supporting the channel.
Everyone who has Amazon Prime gets a free sub every month to spend on any channel they want. The catch is that it doesn't automatically renew. If someone uses Prime, a widget can remind them for you with this Prime Subscription and Loot Reminder. When it's time to resub, an icon will show. It works out for viewers, your sub count, potentially your path to partner, and your bottom line. You can also mention that students get a discount on Amazon Prime here.
It's an old standard, but worth mentioning. At the top of chat, you can show the top three bit donors. Set the amount of time you want them to refresh. I've seen streamers refresh every 20 days and other streamers refresh every 4 days. Just go with what your viewers like the most.
The sound alerts extension lets your viewers press buttons for different bit donation amounts to make custom sounds play on stream. For example, press a button for 101 bit donations and a funny audio plays,
The app developer takes 20% of bits earned this way, but it does seem to work, especially for funny and trolly alerts.
You could also always add plenty of custom amount bit alerts to your StreamLabs or Stream Elements tools. But instead of buttons, you'd have to list the different things that happen at specific amounts somewhere.
Bits to Make a Character Dance
The Character Trigger from Adobe is an extension that lets a character dance on your screen when triggered with bit donations. This one also takes 20%. Characters must be made in Adobe Character Animator CC.
Show Sub or Donation Goals
You can show a progress bar with a sub goal or donation goal in your overlay. Avoid blatant begging — make it fun and help your viewers understand what the goal will achieve. Maybe it's a new emote, equipment, a better stream schedule, path to partner, Twitch Con, etc.). For really fun and meaningful ideas, see our post on Twitch Stream Sub Goals.
Submit Video or Audio with Donations
Your streaming software likely has a way for your viewers to request a clip with their tips. StreamElements lets your viewers request a YouTube clip. You can also set a cost per second and a max clip length. Use features like this for a video alert box or the audio only.
Text-to-Speech Messages with Bit Cheer Amount
It's fun to hear your message turned to voice on stream. Set up Text to Speech under your alert settings in Streamlabs or Stream Elements.
You can set the minimum cheer amount for a message to appear on stream. A lot of streamers have a 100 bits minimum. On the other hand, Cryaotic has so many viewers that his text to speech is at a minimum of 1000 bits.
Sub-Only Polls for Content
Kitboga, the scambaiting streamer, lets his chat vote on polls about what persona he should be on his next phone call. He also lets them vote on strange topics he should bring up during the phone calls meant to waste scammers' time. Nightbot and Strawpoll can do this.
Gaming creators do something similar when they allow subs only to vote on which game they will play next.
---
How to Set Up PayPal Donations on Twitch:
Fans can donate money to your PayPal through StreamLabs or StreamElements. These apps will give them a gif and a message to send with their donation alert.
Alternatively, you can place a simple donation URL from PayPal. Doing this will let you get donations, but it won't interact with your stream overlay.
Privacy Note: Donors will be able to see your name if it is associated with your PayPal account when they look at their PayPal history. You can set up a PayPal Business account if you'd like to avoid this. (Check out this complete guide to protecting your privacy on Twitch.)
To Make a Donate Link Without an App: You can also create your own PayPal donation link. To do this, go to the PayPal buttons page, and select the Donate button. Choose your details and get the URL. Just get the link — you don't need to customize the button, because you can't embed it on Twitch. You can use it as a text link, or make some simple Donate artwork and link that.
---
Show Your Streaming Gear on Amazon:
You've probably seen the streamer gear panels. Once you make Twitch Affiliate, you can get one, too. When someone clicks through and buys something, you'll earn a small commission through the Amazon Associates program. Purchases don't have to be of your specific items. Anything the person buys after clicking your link within 24 hours, counts. You can get the panel by installing the Amazon Blacksmith extension.
The extension can also be used as an overlay. You can reward viewers for shopping through your links as well.
---
Wishlists and Gift Cards:
It's not unusual for streamers to include their Amazon wishlist. Streamers usually keep it limited to hardware for stream improvement, or games to play.
If you post a wishlist, just keep privacy in mind. Take some basic precautions like using a separate Amazon account with your Twitch name rather than your real name. Use a P.O. Box for the delivery address.
Gift Cards: Amazon gift cards are even more anonymous, since all they require is an email address. Place a link to the gift card on Amazon with a note of your stream-related email address.
---
Sponsorships:
For streamers who become particularly influential, companies may offer them a sponsorship. Just realize these can be very limited opportunities for only a handful of large influencers with great reputations. Companies that offer Twitch sponsorships could be selling games, computer hardware, or streaming equipment and tools. Here are a few examples of how to make money on Twitch using real sponsors / partnerships:
IRL Backpack sponsors Jakenbake.

PUBG sponsors JennaJulien.

Chrono is partnered with Cryaotic.

Ninja debuted the new Samsung Galaxy accessories for Fortnite players.
---
Join Other Affiliate Programs:
If you can't get a direct sponsorship, you can also search for affiliate programs. It's not the same as a partnership, but you can earn commissions on referrals. Google the names of companies you like with the word "affiliates." If you find a program, you can usually find a form to apply. Nerd or Die is one company that has an affiliate program for established and positive creators. Note that for many affiliate applications, you'll need to send numbers about your traffic and other personal details.
Note: The FTC requires you to clearly disclose affiliate links, and so do affiliate programs. Apply if you already have a following and are qualified, and read through their terms carefully.
---
Set a Streaming Schedule:
A consistent and clear schedule keeps subscribers engaged. This is part of treating your stream like a business. Show your schedule in your panels, within intro or outro overlays, pinned on your social accounts, and on your own website.
Twitch's most successful streamer, Ninja, famously lost 40,000 subs when he took off less than two days to go to E3. He later commented that people who subscribe to Netflix can tune in at any time, and that people feel the same way about Twitch streaming schedules.
That's a lot of pressure. It just shows the importance of frequency and giving your subscribers the value they want. That said, streaming every day is overkill for a lot of people, and lots of successful streamers don't. Just be predictable.
As a note, once you make partner, you can also use reruns to fill in some of your days off.
Take care of yourself! Time management is important when you work from home. Burnout is real, and you can get overwhelmed quickly if you don't plan a healthy routine. Try to have a separate space for work and living, streaming and regular internet browsing. Spend time with friends and family. Exercise. Practice good self-care, and balance your time.
---
Subscriber-Only Perk Ideas:
Probably obvious, since it's the most standard perk: subs get to use your custom emotes. Make them good! Get some help from a designer, a creative streamer friend, or consider submissions in your Discord. If you're brand new, you can buy a pack from an artists' stream assets shop.
Sub-only Discord channels:
Make your discord fun for all your users, but have one or a few channels for subscribers only.
Give a higher rank to subs.
Although this option is ready to use anytime, it's not for regular use. Instead, use it for moderation issues like unwanted raids or spam. Your subscribers will appreciate it!
Acknowledge your new subs! It may seem obvious to say thanks, but appreciation goes a long way. There are some creative ways to acknowledge subs, too. I'll go over more creative things streamers do down below. When you're starting out, you can consider sending personal thanks in a message if it makes sense to do so.
This is another one that evokes split opinions, since it can be more of a limitation on non-subs than a perk for subs. Nonetheless, some streamers make their VODs (videos on demand of past streams) viewable only to subscribers.
For example, only subs get added to a private Twitter or Snapchat account.
Make a wall that celebrates your subscribers either in real life or in an illustration. SleepyMia draws an image to represent each of her subs on a sub-wall. Starbitzychan has a real-life one made of stickers with her subs' names.
Probably the most obvious, but worth a mention. Some streamers choose not to use ads at all, for anyone.
Subs only get to participate in a Discord channel or other app for watch parties through apps like Gaze or other long distance movie watching services.
---
Cross-Post to YouTube:
Kitboga is just one popular streamer who also posts VODs to a YouTube channel. This can get you revenue on a platform where a lot of people can see you even if they aren't using Twitch yet. Cryaotic saves some of his gameplay streams for Youtube by letting everyone know that alerts are turned off during gameplay.
---
Encourage Clips:
A small creator can just cruise along unnoticed, until one day a clip goes viral and the traffic pours in.
One of the best-known ways to get attention is to be upvoted in the subreddit r/LivestreamFail. It sounds counterintuitive, but funny moments will get upvotes, eyeballs, and new followers and subs. The subreddit isn't just for fails. The guidelines allow wins and meta posts too, so there's a fun variety of content. Just don't post your own clips; it'll be shut down quickly as self-promotion. So encourage your viewers to clip things.
Clips also inevitably wind up in Youtube compilation videos. Some creators get viewers in chat saying they came because of something they saw on YouTube.
---
Patreon:
Since Patreon lets people crowd-fund their support for creators with a monthly donation, I haven't seen a lot of streamers use it. After all, Twitch has a built-in way for fans to subscribe.
But for people who have something extra to offer, or are also active on other platforms than twitch, it might make sense to have one. You could offer art tutorials or physical goods to Patreon subs — something different than what you offer through Twitch and Discord.
A fun art streamer I like to watch, SleepyMia, posts art tutorials on her Patreon. It's a great way to reach her followers from other sites like DeviantArt. And since Patreon offers different donation tiers, she can also provide merch to upper tier levels.
Either way, it's completely optional for your viewers, as long as you don't use it as a way to paywall your regular content.
---
Sell Merch:
You can always use print on demand services to sell your own merch. Put logos, custom emotes, and in-jokes on your designs.
Streamers can sell merch through Design By Humans or use the built-in merch program that's now a part of Streamlabs. This might just be the best one, since its new partnership with Twitch will let viewers shop directly from your stream, instead of in a new tab.
People who have a decent following can probably get accepted into Amazon Merch more quickly than a random applicant.
---
Key Takeaways:
We've talked about how to make money on Twitch starting with the basics of affiliate and partner status. We've gone over ways to encourage bits and subs using custom alerts as well as Twitch panel extensions. And we've gone over ways to accept third-party support from your viewers, including merch, Patreon, and alternative donations.
Above all, making it on Twitch is going to be about building your community, making it fun for everyone to be there and to keep tuning in.
Anything you'd like to add? Please send over a friendly message, and I'll do my best to keep this guide current and updated.