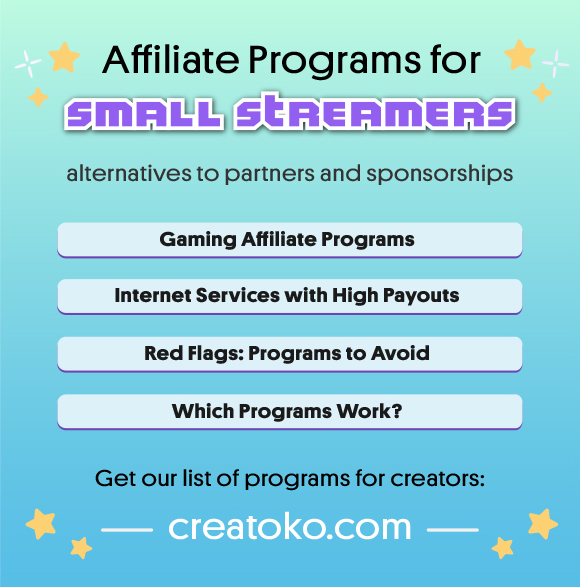 Twitch streaming sponsorships are usually reserved for big names. But some brands accept small streamers' partner applications, or have affiliate programs for streamers that pay commissions on referrals.
Stream sponsors and affiliate programs are not the same.
A sponsorship is a paid contract for a promotional deliverable.

A partnership suggests a company pays a streamer for their endorsement and image.

And affiliate programs let you earn commissions for referrals.
For small streamers, many affiliate programs won't be worth your time. The payouts are low and rely on volume. However, some companies have new and unique ideas to improve options for content creators.
This is a list of companies that either partner with small streamers or offer fair affiliate programs that I believe can do well, with explanations and tips for each. Disclosure: Some but not all of these links use our own affiliate links.
(If you get a bigger following later, you can negotiate a higher commission rate or a sponsorship / partnership. If you already have 10,000+ followers, go ahead and negotiate first.)
---
Game Affiliate Programs for Small Streamers
HumbleBundle is a creator-friendly game and Steam key bundle store that also supports charities with every purchase. If you promote them, your supporters can even allocate more of their purchase price percentage to you during check out. Their donation to charity won't be affected. Once you sign up you get referral links right away. Post one on your Twitch or other streaming socials. Learn more and sign up for their partner program here.
The indie game site Chrono's partnership program is usually selective, with high-profile partners like Philip Defranco. But now, the brand is launching a unique brand deal for small streamers called Creator Stores. Content creators can get their own branded page to add their own reviews, recommendations, and merch. Streamers can earn generous revenue shares up to 15%. Get on the waitlist here!
Itch.io is a cozy community site and indie game store that connects game devs and content creators like streamers and YouTubers. You can quickly set up a partner profile, make connections, and get affiliate links to earn money on referrals to their games. You'll get immediate access to a library of games that are free for review purposes. Sign up here.
More Gaming Affiliate Programs:
GreenManGaming: Starting at 5% per referral. Link.
Fanatical: 5% per referral. Link.
IndieGala: 5% on game sales or 10% on bundles. Link.
---
Internet Services with High Payouts
NordVPN has years of trust and experience helping people surf the web privately. They pay you an amount per referral that can be worth it even for small streamers. 
VPNs make good affiliates or sponsors for smalls streamers and YouTubers because your viewers already understand it. They're online, need privacy, and like to stream movies. For example, I can watch Studio Ghibli films on Netflix from the USA with NordVPN. Sign up to become an affiliate on their site. Since I'm using Creatoko's affiliate link, I'm happy to help you set up a VPN promo image for your profile. Just shoot me a message!
Brave browser is a privacy-centered web browser designed to reward content creators directly. Users can put funds in creators' wallets just by watching them normally. They can even tip Twitch streamers with a click. Plus, the browser will integrate all your normal Chrome extensions. Their affiliat eprogram is no longer active, but you can get funds when your viewers use it to watch you. When I connected my accounts, I was surprised to find I already had money. Get started here.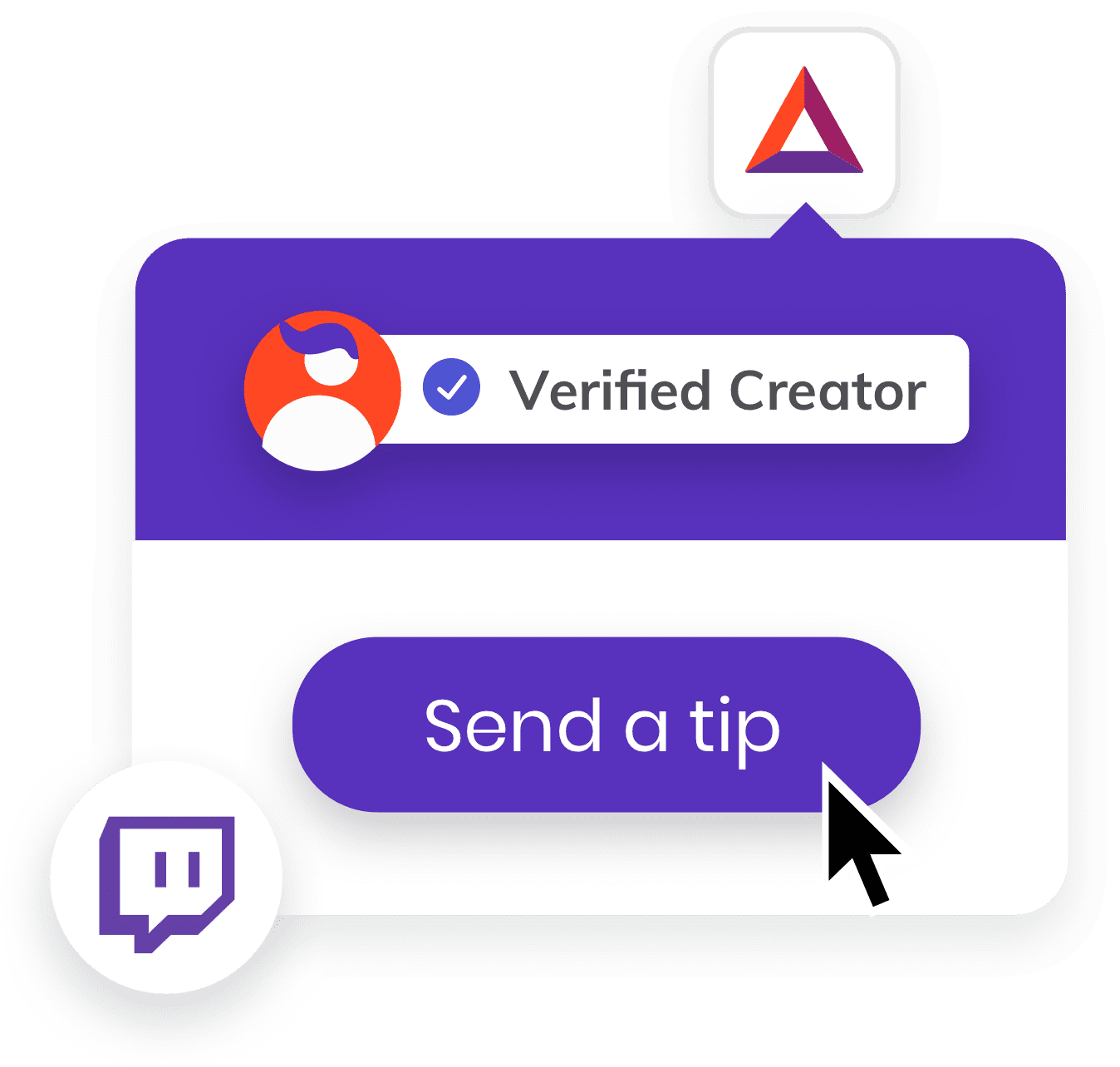 ---
Stream Design Affiliate Programs
Fiverr got an early start with its Twitch category, positioning itself as a place for streamers to buy stream designs and emotes directly from artists. Their affiliate program offers from $15 up to $150 per sale (and other revenue models). You can sign up here and put up a link or very clickable graphic on your profile. Need a good banner to put on your Twitch profile? Use my link to sign up then get in touch and I'll help how I can.
---
Chairs and Gear
GTOmega is a game chair seller based in the UK with an easy-to-join affiliate program.
Gunnar sells blue-light blocking glasses to reduce screen glare and eye strain.
---
Pop Culture Stores
LootCrate is a nerd culture themed subscription box full of licensed merch, with different boxes to choose from. They pay $10 per referral, however as a physical product and subscription, I'm not sure how well it will convert. Link.
PlayAsia sells games, game figures, plushes, art books and more with 12% commissions.
---
Amazon Associates for Twitch Streamers
All Twitch streamers have access to the Amazon Blacksmith extension for Twitch. You've probably seen it on streamer profiles showing their gear. Amazon Blacksmith pays different rates for different categories, but digital games do best at 10%. Read about it here.
---
Other Ways to Make Money
While you're building your presence on the site, affiliate and partner programs aren't the end all be all. There are plenty of ways to make money on Twitch.
Your Own Merch: StreamElements and Streamlabs both allow you to create merch by uploading your branding / artwork to several print-on-demand items like t-shirts and mugs. You can even connect your merch sales to your stream alerts and set a special on-stream message when someone purchases. StreamElements in particular pays you a better percentage of the item cost than other print-on-demand companies, and requires no paid membership with them to sell. Hire an artist or make your own.
Donation and Sub Goals: Donation goals can help you improve your stream and sub goals can help you meet milestones on your way to Twitch Affiliate and Partner status. Check out our list of sub goal reward ideas.
---
Typical Affiliate Program Rules
Affiliate programs usually require you to follow rules that prevent people from gaming their system with fraud. You will likely need to submit URLs where you'll promote them, in this case your Twitch profile or YouTube channel. If the program is selective, they might require a minimum number of followers. You won't be allowed to use your own link for personal purchases. You also won't be allowed to use promotional methods that are spammy or that compete with their own advertising. Read the program terms of everything you sign up for. They're usually straightforward.
Furthermore, you should brush up on the FTC and other ruling body's rules about affiliate relationships. If you post an affiliate link, you should disclose the relationship.
---
Which Small Streamer Affiliate Programs Work?
In general, affiliate programs for a small streamer rely on volume to be worth your time. If the commission rate is low and your stream has few followers, it might end up taking up space on your profile at no benefit to you. That said, if a program is relevant to your specific audience and pays a decent rate, you could be onto some extra cash each month.
The simplicity of most streamer affiliate programs is that you can put up a link on your profile, look at your reports over the next couple of months, and take the link down anytime if it's not working.
---
How Can I Promote Them?
You can post text links or images in your Twitch profile, put a list with links under your YouTube video, and take advantage of chatbot timers.
---
Red Flags: Affiliate Programs Streamers Should Avoid
Small streamers should be wary of affiliate programs that require you to buy things, commit to showing a product on stream, or to do anything if you only get commissions. If that's the case, you need to be compensated fairly. These deals are more appropriate for partner contracts and are best handled by your own agent or counsel.
Twitch Affiliate sponsorships are harder to find, but might be possible. If you constantly use a product anyway, or get questions about it often, then check if the company has an affiliate program or see if they have any interest in a stream sponsorship or partnership. Know your viewers, followers, subscribers, and demographics when approaching them.
What do you think? Are affiliate programs worth it for small streamers and creators? Have you had good or bad experiences? Leave a comment below, and consider checking this post again later as I hope to refine and add to this list over time!