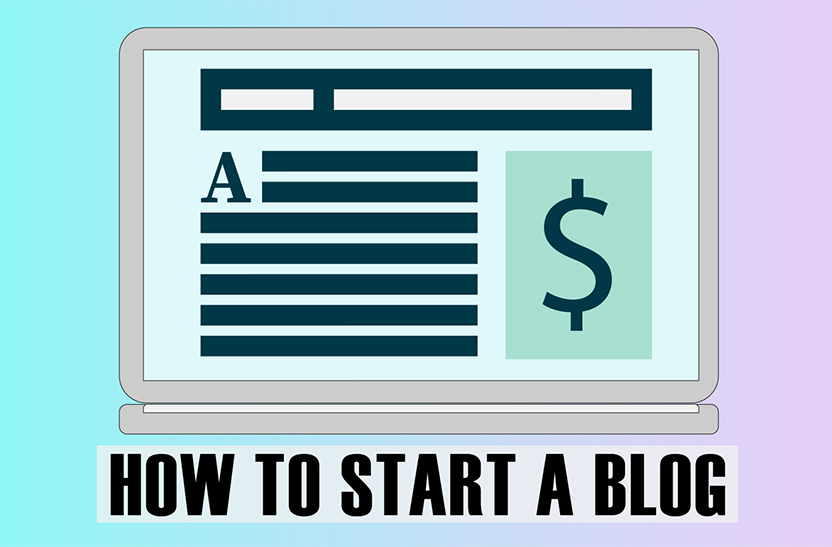 For a long time, I've made a living blogging with WordPress. When people ask me how they can do the same, I usually say to just start! To that end, I finally decided to make a step-by-step guide teaching you how to start a blog with WordPress fast.
No stress. WordPress is easy to install when you combine Bluehost and The Divi WordPress theme.
(Divi has become the most popular WordPress theme in the world because its visual editor is so easy to use).
Even if you're a total beginner, you'll start ahead of the curve. I'll show you the methods that have worked for me and so many other bloggers, and how to adapt to the current online space.
Total Time: 5 minutes to install WordPress on your own server with Bluehost, and 20 more minutes or so to fix up the settings for nice results.
How to Start a Blog with WordPress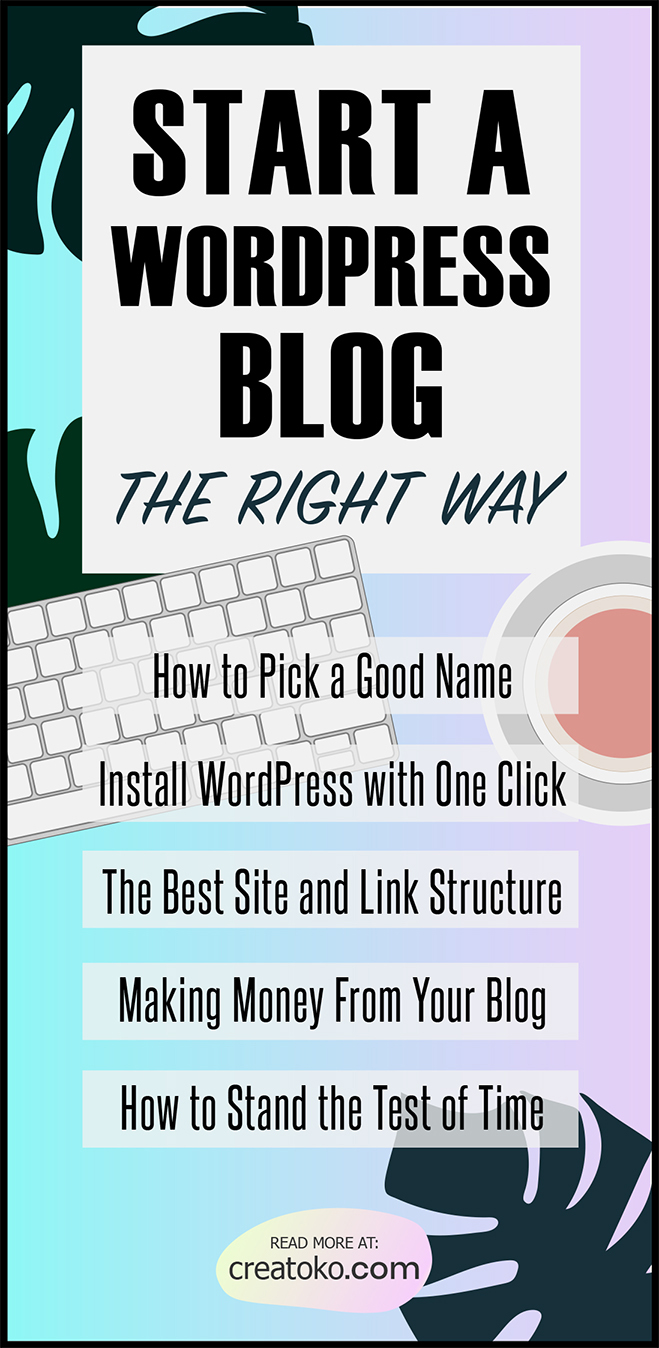 If you already have hosting, feel free to skip ahead to the settings and WordPress setup section of this guide.
Note: This website earns a commission for referrals to some but not all of the brands it links to. I only recommend brands I actually use and trust. They almost all have affiliate programs, so I figure I'll use them if I can still recommend what I like.
Bluehost is the host officially recommended by WordPress, and it's perfect for beginners. For the record, my sites are on Bluehost, Kinsta, WP Engine, and GoDaddy. I prefer Bluehost for new sites and Kinsta for heavier-resource projects since it's more expensive.
---
Why WordPress?
Now let me tell you a little more about why we're using WordPress.
WordPress gives you the freedom to easily make any kind of site you want, not just a blog.
Although a lot of personal blogs are built on WordPress, even huge publications like VOGUE magazine are built with it. In fact, 32% of the internet is.
WordPress makes it easy to post articles or blog entries, it's flexible to customize, and it gets regular updates so you don't have to worry about technical issues.
Avoid the most common mistake:
When we say WordPress, we're talking about the software from WordPress.org, not an account on WordPress.com.
What's the difference between WordPress.org and WordPress.com?
❌ WordPress.com is a site where you can post a blog, but you don't have the same freedom to customize it or make money.
✅ WordPress.org is the unlimited version. You'll install it on your own .com (or any other type of) domain name with the click of a button.
Note: Don't worry, you will still have a .com at the end of your site name if that's what you want!
This version of WordPress is also free. It's free because it's open-source, and you host it yourself.
Yes, you'll pay for the hosting, but it's cheap, and worth it because you'll own all of your business. You won't have to rely on a company to tell you if you're allowed to use ads or any other other income method.
Now let's get started. Don't worry, it's very easy! WordPress installs with a click of a button when you sign up for your hosting account.
---
1. Sign Up for Hosting
Bluehost is officially recommended by WordPress. Thanks to Bluehost, your hosting account will come with:
one-click WordPress installation
a free domain name
and a free SSL certificate (site security).
This is a really good value. I had to pay for those things separately plus the renewal fees with another provider I used to use.
I personally use Bluehost for my niche sites and blogs, and the more pricey Kinsta for authority sites. Bluehost is cheap and includes a free domain and SSL certificate, meaning your risk is low when starting out. I don't recommend newbies spend a lot of money starting a new blog. Once your site grows, you can upgrade your Bluehost plan even if you're still in the middle of a term.
Bluehost lets you get WordPress running with a one-click install. The hard way would be to download the WordPress source code, buy hosting, and upload the source code and configure it yourself. Yeah, I've done that before. With Bluehost, you don't have to.
Bluehost has offered a discount for Creatoko readers who use our link.
Use this link to get the discount. It'll open in a new window, so you can follow along with the instructions in this step-by-step guide to start a new blog.
Now that you've gone to BlueHost and started, you'll see this chart: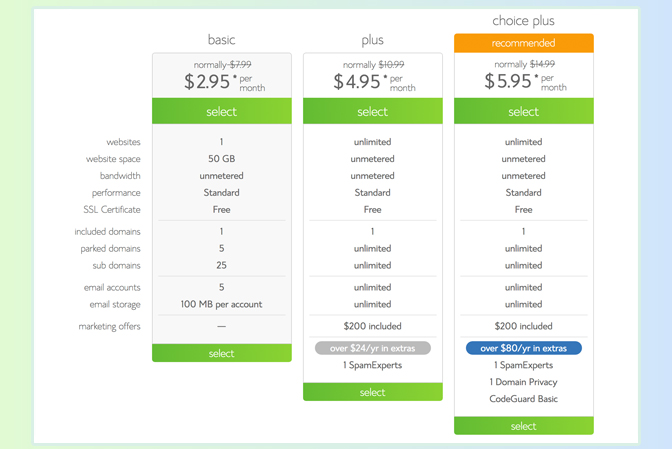 For the purposes of starting out, you can go with the Basic plan. The Plus and Choice Plus options are good deals if you already have a lot of site traffic. But for now, I'd just go for the cheapest option and save money. You can always upgrade later.
---
2. Get a Free Domain Name
Once you've signed up, you can pick your domain name. If you already have a business,  this will generally be your business name, like BusinessName.com. Or, depending on what you do, it could be your own, actual name.
If you can't decide on a name now, Bluehost will let you decide later and still get the domain for free. If so, click "Decide Later" to receive a domain credit, then skip to the next step. Just know that you'll need to have one for your WordPress site to go live.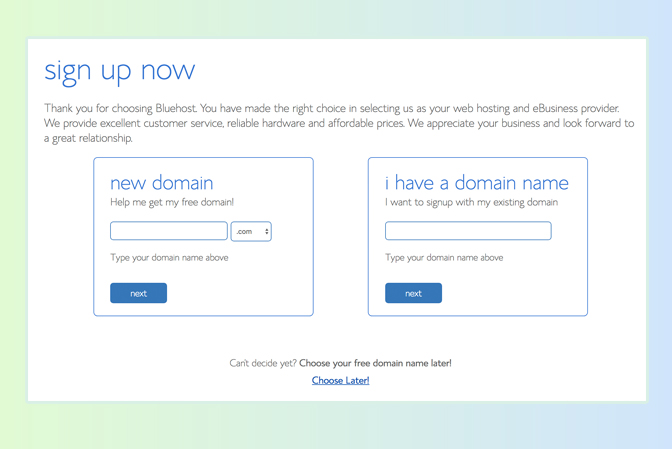 Here are my best pointers for picking a domain name:
Too many business owners don't start because they can't think of the "perfect" name. My hack is to just pick something and give myself 3-6 months to change my mind. It's important to get started!
You'll most likely want a .com domain. Lots of extensions are out there these days, but .com, .net, and .org are still the most popular in the United States. I think this idea will be outdated soon: Extensions like .io, .tv, and .gg are already popular.
Avoid using hyphens. BusinessName.com, not Business-Name.com.
You can try a name with your keywords or a brand-able, made-up name.

Use two or three words, or mix words together to make a new one.

If you say it out loud, is it easy for people to understand the spelling?
If you don't have a domain name, just click on Decide Later and move on to the next step. If you already have a domain name somewhere else, you can set that up with your Bluehost hosting too, so enter it here and continue.
---
3. Confirm Your Plan and Term
Now you can sign up and sign in!
The first part is pretty self-explanatory. Just fill in your details to open your account. That's your basic name, address, phone number, and email address.
Next, you can select the plan and term.

You can pick plan lengths by the year. The best deal is the 36 months price. However, if you want to try the 12-month price to make sure you like it first, it's still cheap overall. It's half the price of the 3-year term. Choose what's best for your needs.
About the Extra Options: Below this, you'll see several options to upgrade your plan. Since your domain privacy and SSL certificate are included for free, you don't really need these.
When you're finished, scroll down to enter your payment details and click Submit. You can use credit card or PayPal. Now you can create your password, and get start playing with your new WordPress blog!
---
4. Log In and Install WordPress
Now you'll get an e-mail with your login details. Log into your CPanel, which is your control panel essentially. Then click on an icon that looks like this one:

Once you click this, you'll be asked which domain to use from a drop down list. Select one, and then provide a username and password. The page will then show you your login url where you can log in to the backend of your new WordPress blog. 🙌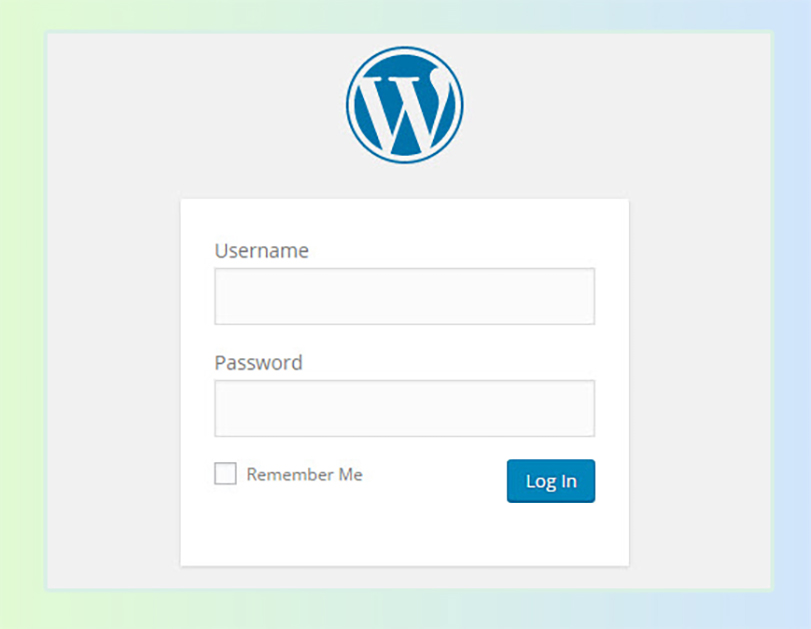 ---
5. Activate a WordPress Theme
When you log in for the first time, Bluehost will ask you to pick a site template called a WordPress theme.
There's no pressure. You can easily change your theme and "try on" several. Even if you change themes, all of your blog posts, pages, and organization will still be there.
I recommend the Divi theme because it's the most popular and versatile theme today. You can drag and drop to customize it.
How to Find Free WordPress themes:
Login to your WordPress Dashboard.

In the left-hand menu, click on "Appearance" and then "Themes."

Select the "Add New" button.

Now you'll see a list of thousands of

free

WordPress themes.

Hover over a theme and click "Preview" to see your site with that theme.
When you've found one you like, click "Activate."
Paid themes for WordPress are also out there, usually called premium themes. I always use premium themes, but you don't need one if you're just starting out. If you know you're going to go all in on your business though, a paid theme is a good investment. They're generally nicer looking, kept current with technical updates, and have customer support.
My favorite themes? If you're curious, I like the Newspaper theme by TagDiv and all the themes for Studio Press by Lovely Confetti.
Don't sweat it too much. The free options are great for anyone starting out who doesn't need, say, a large-scale web magazine or feature-rich portfolio.
---
6. Recommended WordPress Settings
Go to Settings in the menu, and start organizing your site structure.
Permalinks (Settings >> Permalinks)
This is important to change right away. Your permalink settings decide your URL structure. For example, businessname.com/title-of-the-post/ versus businessname.com/category/title-of-the-post/. According to the SEO expert Yoast, either one is fine as long as your urls aren't too long. The benefit of not using the category is that you don't have to redirect old URLs if you decide to change a post's category later.
Reading (Settings >> Reading)

Do you want your front page to be a static page, or a list of your posts sorted by date? Set that here.

Set syndication feeds to show a summary rather than the full text. That's so people using sites like Feedly have to click through to your blog to read the rest of your post.

If you want a complex homepage that shows your recent posts and has information on it, use a WordPress theme that does this, usually one with a page builder.

Discussion (Settings >> Discussion)
This is where you can turn comments on or off. You can also decide whether they'll be automatically approved, or need manual approval first. I recommend manual approval and the Akismet plugin to help block spam. On many of my sites, I've completely disabled comments and installed Disqus to make sure I get less spam.
---
7. Add Pages and Posts
Now let's talk content. Here's your chance to show what your site is all about. Let's talk about how to add pages, and the kinds of pages you might want. When you create a blog with WordPress, you're not just setting up the skeleton. You're looking to make good content.
Your blog posts and your pages are totally different things.
Posts are your blog posts or articles that have a date and an author byline by default. In standard feeds, they show up in order. They're also grouped by topics, called Categories in WordPress.
Pages don't have a publication date or author byline by default. They're usually used for standard information about your site, business, services, and your legal pages.
For both types of content, you can save your drafts without publishing them.
How to Add a Blog Post in WordPress:
Go to Posts in the sidebar (or just hover) and select Add New.
You'll see a full word processor-like set of fields. You can enter the title, change the URL structure, and choose the category.
You can also add media like images to your posts.
You can add tags.
You can also change the URL structure of the link that your post will create, which is by default based on your post's title.
How to Add a Page in WordPress:
Go to Pages in the sidebar (or just hover) and select Add New.
You'll see you have a lot of the same options.
Instead of categories, pages can have "parent" pages. Personally, I rarely use this feature.
---
8. The Basic Pages Your Blog Needs
Pages are different than blog posts. Unlike posts, pages don't have a publication date or author byline. They're usually standard information about your site, business, or offerings, and your legal pages.
About page:

Let readers get to know who you are and what your site is about. You can show your mission and a little about you. Later you can add links to your most popular posts.

Services:

If you're selling services, make a page that shows your plans. You can also call this page 

Work With Me

.

Contact page:

This is where you can put a contact form, which is easy to do with the Contact Form 7 plugin. More on that later.

Privacy policy:

Every site needs this legally and required on all websites. You can hire a lawyer to write it for you, find a template online, or use a paid service like our affiliate

TermsFeed

to generate a privacy policy for your specific needs. If you collect a lot of information and data, the chances are high that you should consult a lawyer to draft your policy.

Terms and Conditions:

This is the terms of use or terms of service.The more complex your business is, the more likely it is that you'll be better off with a lawyer. In the meantime, you can find sample terms online to get a sense. TermsFeed can also offer this service for you online.

Disclaimer: Protect yourself from liability.
Disclosure:

If you do plan to make money with affiliate marketing, you're required by the FTC to disclose affiliate relationships. If so, add a page called

Affiliate Disclosure

.
---
9. You Need These Plugins
Plugins for your new WordPress site are optional, but certain ones will help you out a lot.
Go to the plugins in the menu and use the search feature to find different ones. Select Install on the ones you get and then be sure to press Activate when it's done installing. Here are my recommendations:
Yoast:

This is the gold-standard plugin that helps you make your posts get ranked in search results. It gives you live feedback on your posts to improve rankings. It's free, but they also have a premium version that I love and always use.

Contact Form 7:

This free plug-in lets you add a contact form so people can use a form that goes directly your e-mail.

Contact Form 7 BWP reCAPTCHA Extension: Grab this one too. It makes your contact forms more secure by making people prove they're human.
---
10. How to Use The Menu and Sidebars
Menus (Appearance >> Menus)
Ready to set up the menu so your pages and categories show up in the header and/or footer? 
Sidebars (Appearance >> Widgets)
Your sidebar is easy to set up. It's made up of sections called Widgets. There are several widget types you can use. Some let you simply enter text, some are for ads, others are specifically for things like your popular posts or Instagram feeds. Take a look around and start adding widgets! I recommend an About section and a list of the most important pages and posts on your site.
You can also use custom sidebars for each category, or set which sidebar to use on each post. This is already a built-in feature of the premium themes I use like Newspaper 9 or the Genesis Framework. However, there are also free plugins you can find that do this.
---
11. Set Up Author Bios
In the dashboard sidebar, go to Users >> Your Profile. This is where you can edit your author information that appears in bylines and, usually, beneath posts.
You can set your name and a bio with links to your other social accounts.It can your name or something like Editorial Staff. I recommend being as detailed and personable as possible so you can build authority over time with your body of work. Google rewards this, and personal branding is only going to get more important with time.
To add a photo, the default uses a Gravatar. I don't bother with Gravatars, and use the WP User Avatar plugin so I can just upload a photo directly.
Using more than one writer? You can also create several users with their own bios.
---
12. Make Money From Your Blog
Affiliate Marketing
Look at your niche ideas, and organize lists of affiliate programs related to them. Go ahead and think of related products and check their websites for affiliate programs, or Google their name and "affiliate program."
Courses and Books
Make a list of courses you could create related to your niche. Whether you sell them on your site or through Skillshare or Udemy, you can promote them through your own content. You can also sell eBooks if you prefer a written format.
Downloads
You can sell digital downloads like workbooks, software presets, and art and media tools. The sky's the limit.
Advertising
If you want to monetize with ads, you'll need a good amount of traffic for it to be worthwhile. Your users' attention is limited, so you'd be better off forgoing ads in favor of promotion of your own products or affiliate products. Once you have enough traffic though, you can apply for ad programs through Mediavine or AdThrive. Google Adsense is also available, but doesn't pay as much.
---
You're All Set, So Start Posting!
Now you're all set to use your new WordPress blog! This guide showed you how to start a blog with WordPress on your own hosting and domain name, get the settings ready, and start blogging. If you're planning a niche site or magazine, you're all set for that too.
Stay tuned, because I'm going to write extensively about blogging, niche sites, and earning money from blogs on this site, from beginner to advanced topics.
Have any questions, or think I left anything out? Get in touch? I hope to get this post updated over time to help as many people as possible.