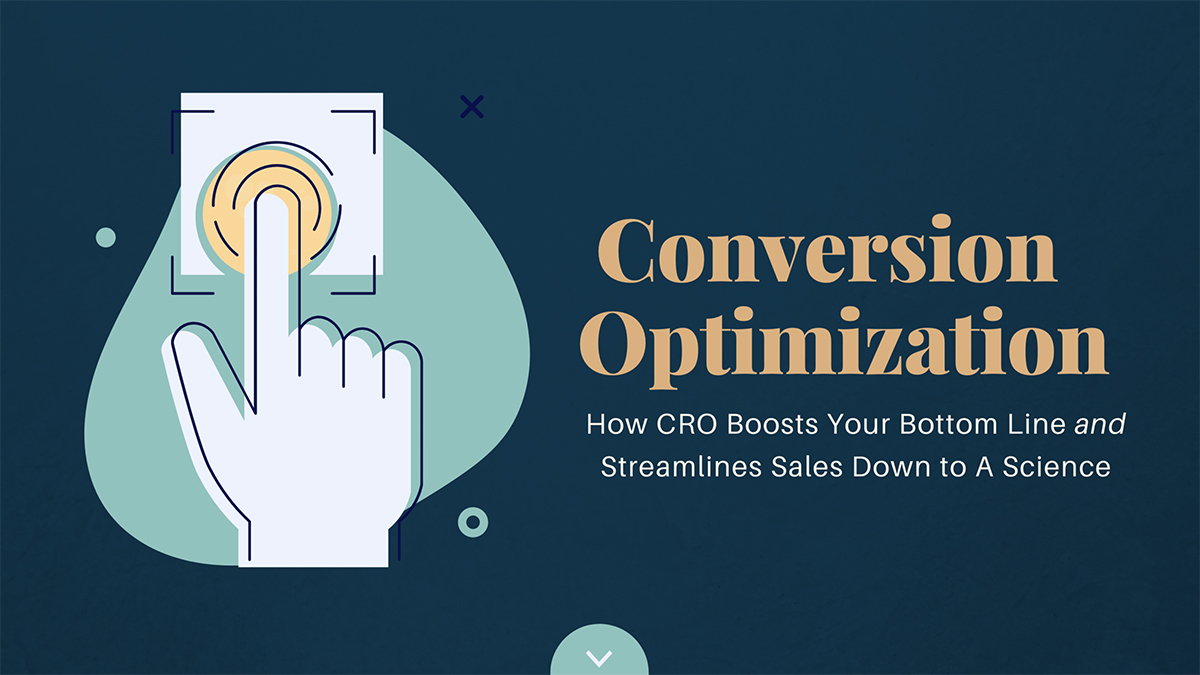 Your website is your number one salesperson. For 24 hours a day, it builds relationships, proves your value, and tells visitors why they should listen to and buy from you.
What's more, those visitors are your best potential leads. They're more likely than anyone to become your customers, so converting them before they leave is your site's number one job.
Think of your business' current traffic. Now imagine that your site converted 1% more visitors. What about 2%? What would that do for your profit margins?
As you probably guessed, you'd raise your profit without any new ad spend. It's now cheaper to get new customers, and you see a better return on investment for every other marketing effort you use.
That's why conversion rate optimization is the most important and profitable part of marketing.
Conversion rate optimization is a key discipline for turning more of your traffic into sales. Experts use it to methodically test every aspect of your users' experience to discover opportunities for sales — and to knock out hidden roadblocks that stop them short.
CRO skyrockets results because it eliminates guesswork and gut feelings. Since CRO methodically tests your unique data, you'll discover exactly what drives your audience to act. Now, your conversion rate is like a lever you can pull for a better bottom line.
---
What Can CRO Do For Me?
By honing conversions, your business will operate at proven laser efficiency. CRO uses multiple types of data and testing to:
Uncover hidden opportunities to close sales and nurture customer leads

Pinpoint areas of friction stopping your visitors from buying

Produce

measurable

improvements and results, tracked over time

Provide total clarity and direction to all marketing efforts

Increase profits as more visitors are turned into customers

Generate more leads, more repeat customers, and more revenue

Increase brand engagement, trust, and recognition

Give you a leading edge on competition who underutilize CRO

Lower the cost of new client acquisition

Make all other paid marketing efforts more profitable
---
Are You Throwing Away Money and Leads?
Sure, you can post more on social media, rewrite captions, target keywords, throw more money at ads and all of that jazz we all love to sink time into.
But think about how much much more those efforts will pay off once every click is a better conversion candidate.
The fact is, not enough businesses make that shift. Research shows that while companies spend $92 to bring people to their website, they spend only $1 to convert them!
It's no wonder only about 22% of businesses are satisfied with their conversion rate — which has a national average of only 1.5 percent. No bueno.
Let's face it: spending more on advertising and other fixed cost activities without a CRO study is a short-term strategy.
Without a complete breakdown of the customer journey that measures exactly what works and doesn't, it's like throwing away money and perfectly good potential customers.
Effective CRO laser focuses on maximizing value of every visitor, proving results without guessing games.
Just by pairing CRO with any of your current SEO and traffic budget, you can be sure new visitors are their most likely to buy based on data and incremental improvements specific to your business. To recap:
Every visitor is more valuable, as they are more likely to become customers.

Every other marketing activity pays off more than before.
---
Can You Guess Which Business Does Better?
Acme and Widgetco are ecommerce businesses. They each:
Pay $1000/month in paid search

Turn a 2 percent conversion rate

Have an average order value of $125

Get 20 new customers per month

Earn a total of $2500 in revenue from paid search.
In short, they both get a monthly return on investment (ROI) of 150% from their paid search efforts.
Now, there are two methods they can use to get more revenue. They can:
Double their marketing spend, or

Conduct experiments to understand their audience better, learning what triggers them to complete a purchase.
Acme chooses to double their market spend. It does nothing to improve their profitability, nor does it scale. Even if they double their spend, double their number of conversions, and double their revenue — it won't matter. Their ROI at the end of the month is exactly the same: 150%.
This method of revenue growth also has a cap. They might be able to double revenue initially by doubling spend, but eventually they will see diminishing returns as their overall ROI begins to drop.
If we want to make Widgetco perform better, we'll take a different tack and conduct tests and execute on them to trigger more buying behavior from our existing traffic. We double our conversion rate to increase revenue by 100 percent and double our ROI to 300% even keeping our traffic spend the same.
Verdict? It's cheaper to leverage your existing audience to increase revenue than to double traffic.

Conversion rate optimization is fantastically cost-effective at lifting ROI because small, incremental increases yield large sums in revenue.
---
Steps of Conversion Rate Optimization
Expert conversion rate optimization strategies start with research at a high level. For the initial on-boarding, a team will conduct a conversion audit by specifically analyzing multiple targets.
We must first understand your user's journey, pinpoint specific opportunities, and recommend changes and tests based on the greatest potential impact. This continues through a tracked process that will measure results and revenue growth.
Conduct tests on a percentage of a website's traffic

Track goal conversions over time and compare them to the original website

Winning version of each test can be applied throughout the entire website
---
CRO Tests and Analytics That Drive Results
Experts use a vast array of CRO tests to increase conversions. Some typical tests are A/B testing, heat mapping, session recordings, user surveys, and user-journey mapping.
A/B Testing

Event Tracking

User Surveys

Heat Maps

User Journey Map

Record User Sessions

Usability Testing

Reporting

Heuristic Analysis
A good CRO strategy will be based not just on prior research and experience a professional brings to the table, but on your business. A proper CRO strategy is uniquely tailored to getting more revenue in a way that works for your specific business model, audience, and customers. Since there are so many variables at play that can affect a single test for any given site, solutions must be tailored to you.
---
Micro-conversions: Greasing the Slide
CRO takes into account your user's entire journey from visitors to paying customers. Therefore, purchases are only one of many actions that must be tracked. Some other desired actions, known as micro-conversions, are big wins on the path from visitor to customer.
These are some activities that lead to conversions:
Signups to a newsletter

Signing up for a free trial

Downloading something

Visiting an important page
These activities warm cold traffic that would have otherwise never been seen again, and build trust and recognition of your brand that leads to an eventual purchase.
For example, new visitors to your site are unlikely to buy immediately. A simple and measurable strategy is to show them information about a product, then offer them an incentive to opt in to your newsletter. Over time, the newsletter builds trust and authority for your brand, and they are far more likely to click through the email to your site to make a purchase.
This entire marketing funnel from the signup to the purchase can be tracked and improved to maximize results. CRO data includes optin form impressions, click-through rate, signups, email confirmations, and clicks to your site. As every step is refined, conversions and revenue grows.
It's not enough to rely on a great website. Tracking these milestones is necessary to drive up new customer acquisition and secure more repeat customers.
---
CRO Values That Can Be Tested
| | | |
| --- | --- | --- |
| Headline Text | Calls to Action | Product Pages |
| Headline Color | Free Trial Length | Landing Pages |
| Subheadings | Credit Card Needed for Trial | Content Order of Appearance |
| Copy text | Testimonials | Social Proof Factors |
| Free Trial Length | Images | Security badges |
| Email Subject Lines | Button Color, Size, Style | Site seals |
| Order Forms | Links | Media Mentions |
| Countdowns | Mobile vs. Web CTRs | Awards |
| Refund Policies | Social Network ROI | Customer Logos |
| Shipping / Returns | Metadata | Menus and Navigation |
| Checkout Pages | Rich Snippets | |
Answering Your Questions About CRO
Do I need a CRO expert if we just use best practices?
While it's true that best practices can be a good starting point for a new business, they become far more tricky as the business grows. Every business has too many variables that can affect the outcome of any one test, so business-specific strategies always work best.

What's more, "best practices" usually describe basic landing page changes based on another marketer's A/B tests. While important, basic A/B tests alone will not have the massive effect that a comprehensive CRO effort will. Even more, someone else's positive result won't necessarily be positive for you or any other business.

As a case in point, some case studies show counterintuitive results. For example, one ecommerce site increased conversions by making their trust signals and badges less prominent, even though they're generally a positive factor.

When you use a CRO expert, every unique variable that impacts your business will be taken into account.
Will growing traffic have more impact than CRO?
Traffic sent to your site isn't as qualified for purchase as the visitors already there. While bringing in new traffic is important and can bring revenue, those visitors will always yield the same rate of return until they are nurtured to their full potential as paying, repeat customers.

Typically when ecommerce brands stop investing in CRO, they see a decline in their conversions and the value of their paid traffic.The fact is, CRO is an investment that reduces the cost to gain each new customer and that boosts ROI better.
Do I have enough traffic to justify investing in CRO?
This is a good question and a valid concern. A certain amount of data is necessary for a CRO team to reach statistical significance. And for you, your margins get larger the more traffic you already have.

There are both large-scale solutions and smaller solutions. Claim an estimate today to see if we can optimize your conversions at a scale that works for your specific business needs.
 
How much initial setup is required? Does it take long?
When you're paying the investment for CRO services, you want to know it's working as quickly as possible. 

Since CRO is an iterative process, there will be an on-boarding process to audit your current setup and tests run on a percentage of traffic. 

We must establish that your users real clicks and actions are the driving force behind decisions. This way, we can establish specific, actionable goals and properly provide you with measurements of your results, improvements, and return on investment.

There are short term and long term solutions available. 

You can adjust and celebrate marketing changes every day, but you will have the safety in knowing that every decision is data backed.
Is CRO a lot of guesswork?
The purpose of CRO is to remove guesswork from your marketing strategies in order to make data-backed decisions unique to your business.

A conversion specialist will ensure that the tests used are based on maximum potential impact based on their prior research and expertise. By using a conversion specialist, initial tests are far more likely to be based on variables proven to have a high-impact so you get an efficient ROI.
How much should I budget for CRO?
CRO is an investment in your bottom line designed completely around tracking your return on investment. It lowers the cost of customer acquisition and makes the most out of traffic you have.

According to this Unbounce study, the sweet spot for CRO spend is 30% of your overall marketing budget. It's at this number that the company saw the lowest cost cost per acquisition (CPA) of new customers.
Is CRO redundant with SEO?
CRO is a separate discipline from SEO, although the two work hand in hand. While SEO can increase your traffic and rankings, CRO aims to increase your sales. Just like with paid traffic, you can bring in visitors, but you must optimize to make the sales. 

Still, SEO and CRO can help each other. For example, optimizing conversions might increase the time a visitor spends on your page, a signal that boosts your rankings in search engines.
 
Why Conversion Optimization is So Important
In summary, the advantages of CRO lie in a scientific certainty of your results. The more your business grows, the more attention it deserves so you can study your customer's journey and grease that slide for them to make every conversion a snap.
Ready to learn more about web conversions? Check out our Content Marketing Glossary. It's a crash course in understanding conversions and SEO together all on its own. If you're ready to jump into web content, find out how to start a blog.