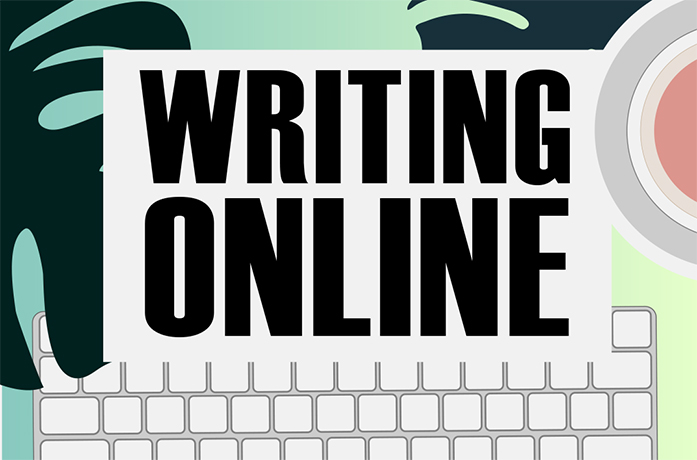 Forget about content mills. You can make money writing online and feel proud of what you're creating. Plus, owning your own work gives you flexibility and freedom to grow. Here are the emerging (and evergreen) ways to write online. Several of these allow for passive or residual income, and the ones toward the end are more freelance-based.
(Posts may contain affiliate links that modestly compensate this site.)
How to Make Money Writing Online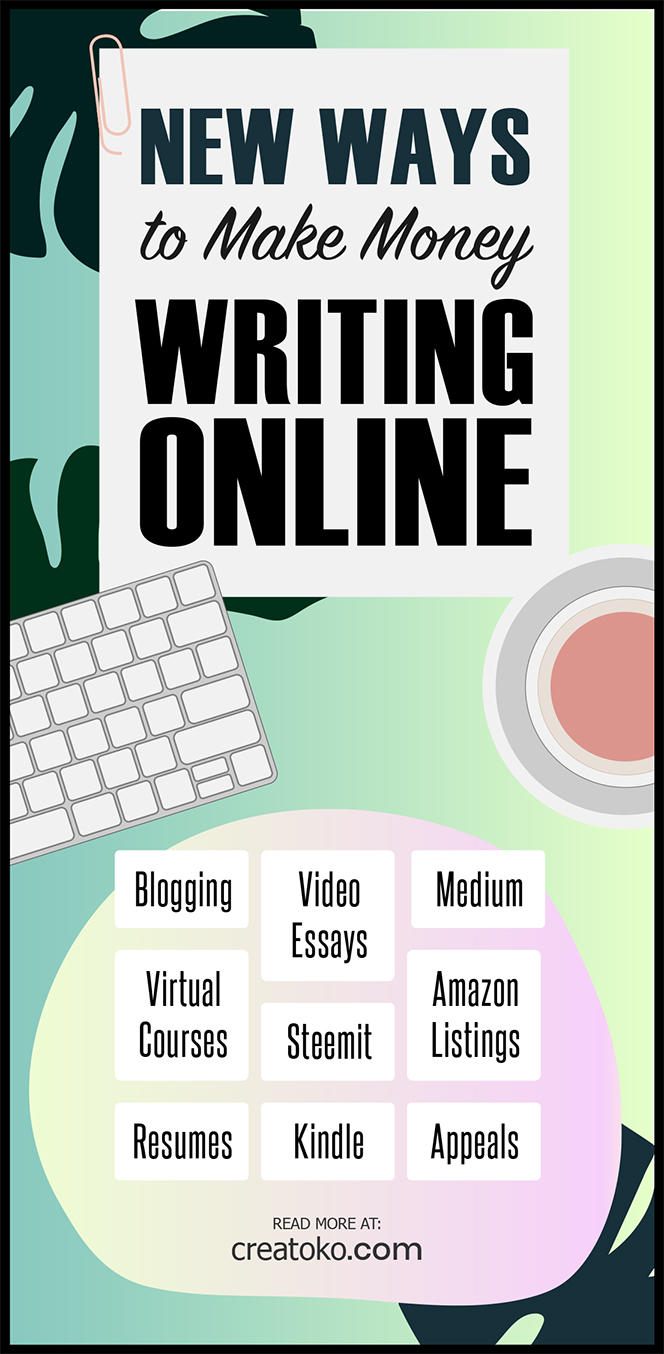 1. Video Essays
Were you the student who excelled at writing essays? Are you tuned in to cultural trends, professionally experienced … or just a nerd of the highest order?
If so, a new format is right at your fingertips on Youtube: the video essay.
Channels like The NerdWriter lead the genre with millions of subscribers tuning in for his weekly video essays on a range of topics. So far, he's pulled in about 150 million views. He also gets regular sponsors.
Every Frame a Painting, another popular video essay channel made by Taylor Ramos and Tony Zhou, thoughtfully deconstructed film direction.
Other Youtube essayists have made content on pop culture topics like music, art, video games, literature, science, culture, history, and politics.
But there's no doubt about it: Video essays are a time investment. You'll research, organize ideas, and write thoughtfully as usual. But then you'll record audio, edit video, and stay mindful of fair use laws.
Sometimes, joining forces with an editor makes all the difference.
Criticisms of the video essay format abound as well, ironically often delivered in video essays themselves. Critics say too many video essayists come across as authoritative without necessarily having expertise. They call for objectivity, and the need to cite sources. They're constructive points worth weighing as you write your scripts.
Youtube channels make money with ad revenue, and in some cases by getting brand deals with sponsors they mention in their videos. Some users also have accounts on Patreon, where viewers can support them with monthly pledges.
If you're a walking encyclopedia and information sponge, try it out. You can build a body of work around the things you care about.
---
2. Write Articles for Medium
Medium is a website with a novel approach to written content. Anyone can sign up and publish articles. Best-selling authors and amateurs alike are being read on the site, and everyone in between.
How does it work? Medium readers subscribe at $5 a month to read its premium content. Writers make money proportional to the popularity of their articles.
Readers give applause or claps to the articles they enjoy, and writers rack up the points and the dollars. The total amount earned is based on both applause and reading time.
You can make money writing online at Medium as a standalone income, or to supplement other professional work.
If you have a blog — which most writers should — use Medium to build your following and drive new traffic to your work off the site as well. It's a good way to get potential clients for freelance writing, or eyeballs on your brand.
Writers on Medium are given a bio at the end of their articles with links to their other URLS. You'll also get a nice, shiny follow button so readers can keep up with you. Read more about their partner program here.
---
3. Join Patreon and Write Your Stories
Patreon enables creative people like writers to make a living doing what they love. Your audience can sign up and pledge a monthly donation. You set up a profile, decide on some donation tier levels and rewards (even if they're just your thanks), and have more time for your work.
N.K Jemisin is a fiction writer who joined Patreon so she could have more time to write fiction. She already had a full-time job and was writing on the side, but that made for an exhausting and unhealthy schedule.
Thanks to her patrons, she was able to quit her day job and focus solely on her writing. Her goal means more time to write, more novels published, and more short stories completed.
Seanan McGuire is another fiction writer receiving pledges of $10,500 per short story. She has several donation tiers, including offering her readers a $3 tier reward to "ask an author".
---
4. Kindle Novels
For authors who prefer creative writing, you can make money writing online fiction.
Paranormal / Fantasy
Amanda Hocking famously made millions of dollars writing the popular teen paranormal romance genre of young adult novels.
Mature
Authors are making a full-time living writing mature stories for Kindle. I found out just how lucrative it is when a couple on reddit mentioned their income doing so. That led to the discovery of a whole community of such writers: r/eroticauthors.
While some of the authors write short erotica, others write long-form romance novels. The community debates which does better. Authors in favor of longer form novels say the longer romance novels now get promoted more. Either way, the secret is in grinding out stories and building a following over time.
More of a humorist? There's space for satirical, meta authors in the space as well. If you haven't heard of Chuck Tingle, get ready for a laugh. The anonymous writer has built cult fame for his absurdist titles like Slammed in the Butt by the Prehistoric Megalodon Shark Amid Accusations of Jumping Over Him.
Tips: Start a website or blog and put up a newsletter signup form. Give away bonus chapters or shorts as a reward for signing up.
---
5. Nonfiction
If you just can't get the knack of plot writing, nonfiction Kindle titles still sell well.
The trick to monetizing your expertise is knowing what aspects of it people need help with. If there are already books about it out there, that's a good sign.
And if it's a problem you've had to solve yourself, that's even better. You'll already have insight into your problem and the questions readers have.
You can also use standard research tools like Google Trends.
Of course, the best launchpad to get people to your published book is to already have an audience. Which brings us to the next point.
---
6. Start a Blog
No matter what you do, a blog is a good hub for your work. You can drive traffic from your other writing and projects to your own personal website for making leads, sales, or building an email list.
Of course, your blog can also earn money on its own.
Advertising
You can set up advertising with Adsense at pretty much any size. Once you have more monthly visitors, you can apply to a better-paying ad network like Mediavine or AdThrive.
Affiliate income
Making money with affiliate marketing was once obscure but those days are over. It's now common for content creators to earn money. Affiliate marketing income is based on referral commissions. What products can you talk about on your site? Whether software, tools, or everyday goods on Amazon, you can promote them. Check sites of products you use for an affiliate program, or google their name and "affiliates." There are also platforms that act as huge directories of affiliate programs, like CJ and Shareasale.
Members-only content
Patreon recently enabled making members-only content on blogs through their platform. You could make only certain types of posts available to subscribers only. It's not the only way, and there are other platforms and plugins you can try. Other methods are a paid members-only forum, but if you go this route in the age of reddit, make sure your forum is providing real value and hands-on, practical expertise that helps people.
Sell Courses
Courses, coaching, and web seminars are popular. You can sell classes directly through your website with a platform like Podia. On the other hand, you can use your blog to funnel traffic to courses you upload to Skillshare or Udemy.
Attract Clients
Even if you don't plan to make a major income through your blog online, it's an important part of an online presence. It acts as a portfolio of your work. Include a "Hire Me" section that's easy for clients to find.
The most important part of your blog is driving traffic and keeping users interested. Do that with good search engine optimization, building an e-mail list, and inbound links.
Want to start a blog?: Read my step-by-step guide. I've been blogging and making websites since the beginning of blogs and websites, and making a living doing so.
---
7. Infoproducts
Kindle eBooks aren't all there is for sharing knowledge. If there's something you can teach others, you can always write and sell an infoproduct.
An infoproduct could be an e-mail course, a video or audio lesson series, a membership site, or a simple downloadable workbook.
How will you sell them? It's probably easiest to sell to your own following on a your own blog or social media. If not, you can use a marketplace.
Marketplaces like BuyGoods and ClickBank let affiliates promote information products for you. The types of products used to have a bad reputation, but aren't as spammy nowadays. Some best-selling products lately have even been specialty diet cookbooks.
Keep in mind that infoproducts require not just good writing, but good marketing. Marketing and ad copy will need to make people want your product, and also make affiliates want to promote it.
---
8. Meme and Viral Content Writer
Even as a meme culture veteran, even I was a little bit surprised when I saw this as a paid job.
A job listing on Glassdoor asks for candidates who follow meme accounts and know social trends to join their team as a meme writer to create viral content.
It's novel, but viral content writing itself isn't new. With hard work, some bloggers have done this on their own.
There was a season when new viral content sites swept over the web to mimic the success of sites like Buzzfeed and ViralNova. Maybe the trend is past, but owning your own content is always a worthwhile pursuit.
You can find topics that are blowing up with apps like BuzzSumo.
---
9. Writing Appeals and Communications
Letter-writing isn't a plot point in Violet Evergarden, the animated Netflix series about a heroine who writes heartfelt letters for others. It's a real gig.
This account on Fiverr offers services writing appeal letters to Amazon for account reinstatements. It's an oddly specific specialty, but evidently a needed one with 51 sales and reviews. They charge between $140-$240 for different service tiers.
---
10. Write Product Listings
As e-commerce continues its takeover, detailed and persuasive item descriptions are vital.
That doesn't just mean writing for large brands and retailers. Small businesses selling through Amazon FBA have a real need to make their products rank well in search results and get sales.
You can offer Amazon listing services on freelance sites or independently. To succeed, you should learn the ins and outs of optimizing Amazon item listings. That's going to include keywords, bullet points, search terms, and research into product competitors.
And of course, you'll also need to write persuasive ad copy.
---
11. Scripts for Video Sales Letters
Speaking of persuasive ad copy, it's probably the most marketable and lucrative freelance writing skill out there.
A video sales letter is a marketing tool used often somewhat notoriously for infoproducts.
Explainer videos for new services and apps are also commonly needed by startups and brands.
Copywriters at the top of their craft can make a lot of money writing one VSL script. Some writers make $5,000 per script.
---
12. Professional Resume Writing
Your way with words could give someone the professional polish they need to land a better job.
Set up a service or a freelance profile to write or rewrite resumes. Give your customers upgrade options, like cover letters, extra pages, and formatting choices.
You can charge extra to fix up their LinkedIn profiles and other site bios.
---
13. Social Media Writing
These jobs are usually posted in part time work boards, rather than writing-specific categories. This job can go hand-in-hand with content writing, or spreading content in a way specific to each platform.
Some jobs that don't publish long-form content, but keep people engaged with brands online. For example, brands on Twitter tend to have young, witty posters in charge of their posts. Such a job means being in touch with trends and the young demographic that tends to follow accounts on those social media sites.
---
14. Web Content
Web content is a vital part of any business' marketing strategy. Content writers craft engaging blog posts and other web writing for businesses. If you're internet-savvy, this could be the job for you.
But don't worry; content mills and Upwork aren't your only options. Publications often keep content writers as staff, or hire them on contract.
Tip: Go to a site you like and look for a link to work with them. I found out one of my favorite sites pays $200 per article this way. Rules for pitches vary: some sites want the idea and a link to writing samples, while others only consider a completed article you send them.
The ProBlogger job board is also known for being more professional than gig marketplaces.
Relevant Skills: Writing on the web requires additional skills than other writing. You'll need to understand on-page SEO, how to format articles for easy scanning, and possibly getting data ready for graphic designers.
The types of positions and pay depend on your experience, research ability, and possibly expertise on a niche subject. Salary also depends on leadership level: you can work as a writer, an editor, or a content director.
A big plus is that this job can often be a remote position that lets you make money from your writing at home or anywhere else in the world.
---
15. Steemit
Steemit is similar to Medium in concept, insofar as you can post your writing and make money based on engagement. It's also compared to Reddit. Anyone can make an account for free and write posts and upvote the posts contributed by others.
But unlike Medium, Steemit is based on the cryptocurrency Steem. Users are rewarded Steem Dollars for posting, commenting, and even upvoting other users' posts. Like other digital currencies, Steem Dollars can be traded for money like USD.
Check out this post for a complete guide to understanding Steemit and you can use it to get paid to write online.
---
The Best Advice for Writing Online
Get a website, own your own channels, and treat your web presence like a business. Even if you're going to do contract work for others, having your own presence will set you apart, show your value, and make your memorable. Personal branding is only getting more important with each year, so don't skip out on this. You can check out my guide on starting a blog with WordPress here.
You can ear money writing online through so many channels today. Traditionally, you can get paid to write for brands, and you still can. But now, it's easier than ever to take advantage of platforms that let you publish your own content.
What platforms do you use, and does it earn you money?