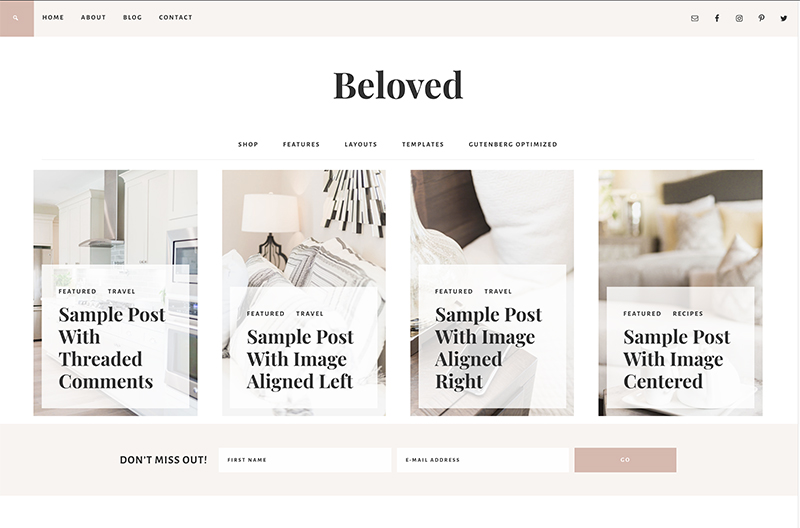 If you're a new web entrepreneur who wants the best feminine WordPress themes for your business, you probably know you need function as well as style. This list will take you through my favorite themes as an experienced content marketer — yep, I've used a few of them myself!
(Posts may contain affiliate links that modestly compensate this site.)
My Favorite Feminine WordPress Themes
I've got a few in mind, and good reasons why I like them. A good WordPress theme needs to center modern marketing like list-building, courses, and SEO. This list will take you through my favorite themes.
This post uses affiliate links. If you make a purchase, I'll get a small commission.
---
1. Annette
The Annette theme is fashionable, subtle, and editorial in its design. I highly recommend you take a browse through the demo on this one to get a full picture of the smart layouts. Gorgeous! It's for creative entrepreneurs, shops, and bloggers. It's a Genesis child theme, so to use it you'll first need to get the StudioPress Genesis Framework.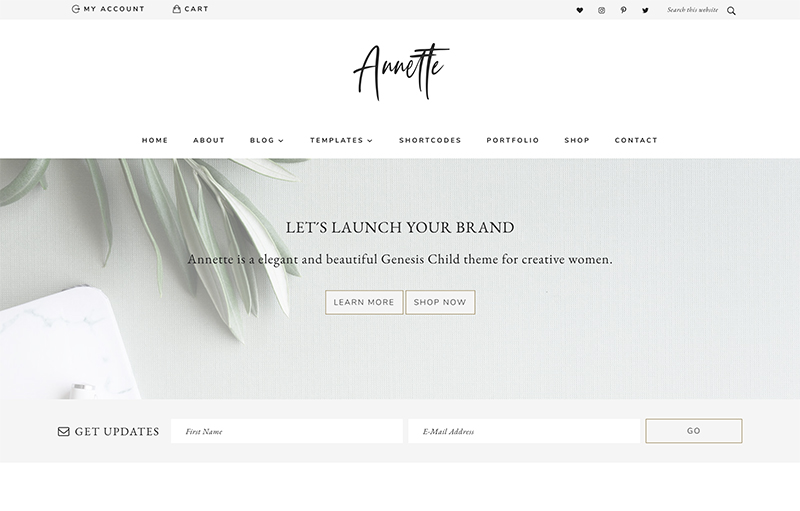 Click Here for the Annette Theme
---
2. Juliette
The Juliette theme is one of my favorite themes — I actually use it on one of my websites. It's easy to customize, plugs right in with WooCommerce or mailing lists like ConvertKit and MailChimp. It has clean blog posts and filterable portfolios. Whether you're a blogger, a business, or a creative — this theme is absolutely beautiful and user-friendly.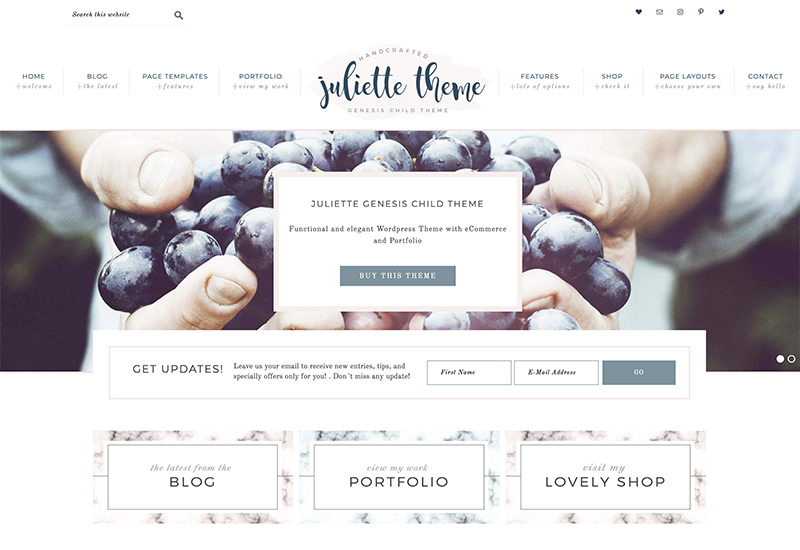 Click Here for the Juliette Theme
---
3. Victoria
The Victoria WordPress theme is ready for your content marketing, with a large call to action and social proof icons at the ready in the default homepage template. Portrait-style featured images in the blog layout are an asset for any infopreneur making the most of Pinterest (and reader-friendly blogs)! You can feature your instagram feed if you wish to promote it at the bottom of  your pages.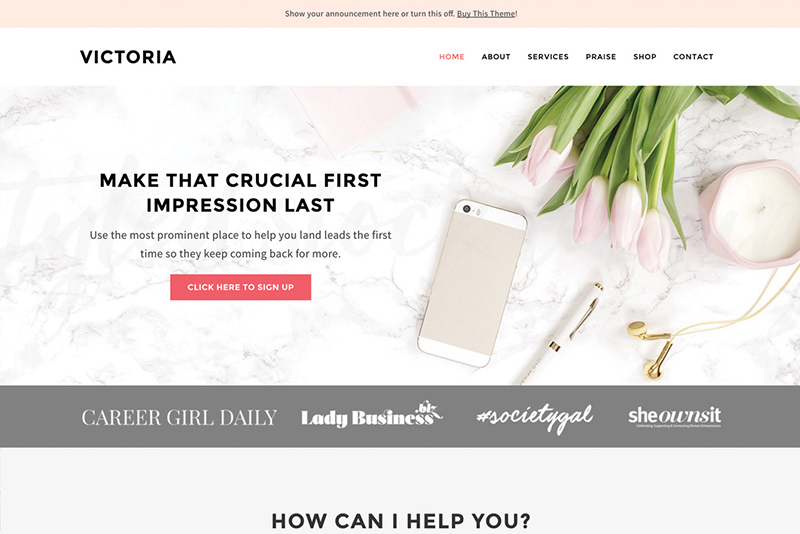 Click Here for the Victoria Theme Here
---
4. Quinn
Quinn is a feminine WordPress theme with a clean and simple blog layout. It's not just a great business or blog — it also works as a shop, being WooCommerce compatible. It doesn't require any other page builder. The newsletter opt-in form is ready and compatible with MailChimp and ConverKit so you can build your audience right away.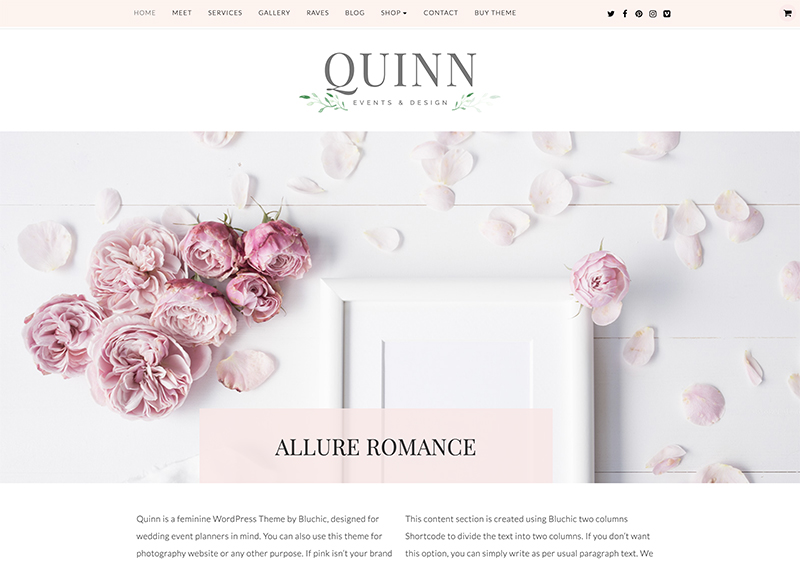 Click Here for the Quinn Theme
---
5. Refined
The theme lives up to its name with an airy feel on the homepage and blog layout style. Perfect for a sophisticated and upscale brand, it suggests premium and feminine content. With the title centered in the menu, your reader notices your brand as an authority. The blog layout features portrait-oriented images and clean category names and excerpts. Each blog post is equally as fine in its presentation. This theme requires the Genesis Framework. It comes with PSDs for matching Pinterest graphics and ConvertKit embed codes so your newsletter emails match, too.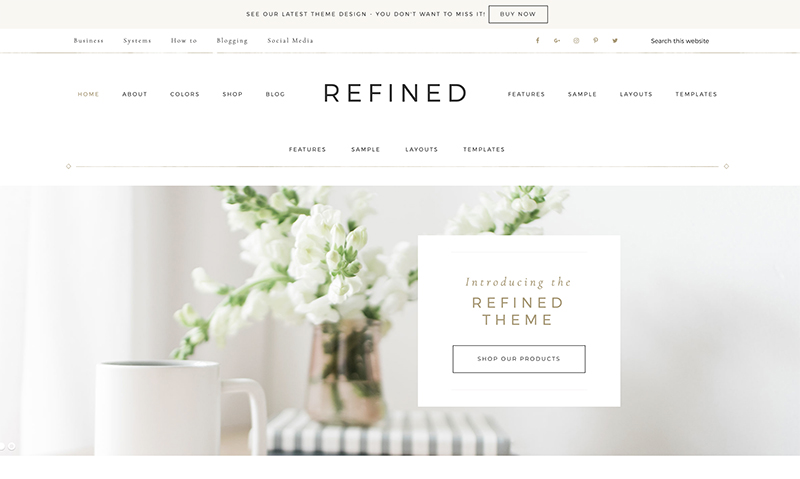 Click Here for the Refined Theme
---
6. Beloved
The Beloved WordPress theme says smart, simple, and focused. It meets modern marketing needs of bloggers and businesses. You get two homepage layouts to choose from: the website and the blog site. I love the way post titles can go over the featured images in the blog site, giving a fresh but Pinterest-loving vibe. And both versions use portrait-mode images, which is perfect for those Pin-able graphics we all need in our marketing strategy There's an easy opt-in bar for your newsletter. You can customize all your colors. It actually comes with stock photos for you to use, which is rare. It requires the Genesis Framework, which you can get here.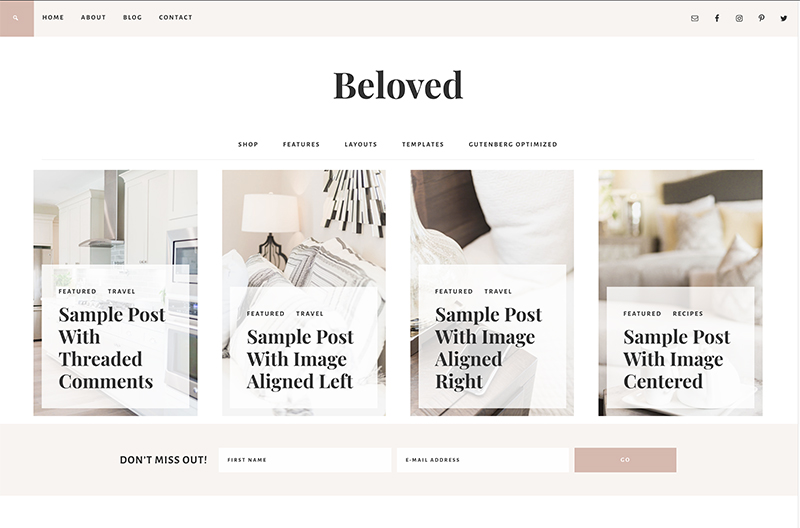 Click Here for the Beloved Theme
---
7. Pretty Creative
The Pretty Creative theme is another one I've personally used! I love the Parallax homepage header. It's fun and lively with a nice portfolio section, perfect for creatives and artists. Show off your lovely branding by plugging in your own logo and art. It's a Genesis child theme, so you need the Genesis Framework to use it. You can get them both together as a bundle here. If you already have Genesis, buy the theme alone here.
Bonus:  Sign up for WP Engine and get Genesis and 35+ StudioPress themes free!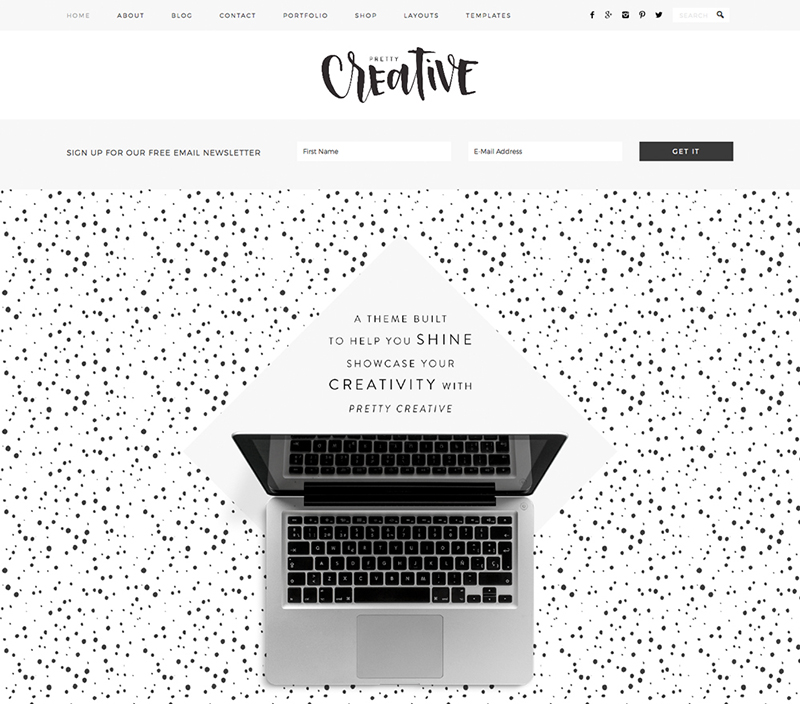 ---
Feminine WordPress Theme Sellers
BluChic
BluChic sells not only beautiful themes but matching landing and sales page templates. Her designs are marketed specifically to different businesses: bloggers, infopreneurs, service-based business owners, and creatives with portfolios.
Restored316
Restored316 makes designs built on the Genesis Framework — you need both. Luckily, the Genesis Framework is easy to use and makes themes a breeze to customize. Once you buy Genesis once you don't have to buy it again for another theme built on it. I've used Restored's designs on my sites before and can attest that they are beautiful and easy to use! They include:
Custom matching graphics for Pinterest.

Matching ConvertKit designs so you don't have to style your emails yourself to match.
Lovely Confetti
Lovely Confetti has made some of my favorite themes, including the Juliet theme and Annette theme above. Their themes are Genesis child themes and Divi child themes.
---
WordPress Theme Marketplaces
They're not individual WordPress theme makers, but lots of theme sellers are on them. Personally, I feel that these sites are a mixed bag. The themes might look good, but how easy are they to customize? What problems might you encounter?
That said, I do use Marketplaces! I basically know which shops on them I like and keep an eye out for them. So spec out reviews and storefronts for each unique creator.
For feminine WordPress themes on a marketplace, I would first recommend Creative Market. They have an entire section of feminine themes for WordPress bloggers and business owners:
Creative Market
Click here to visit Creative Market! It's a design marketplace filled to the brim with beautiful templates and graphic elements of all kinds. Just take a look at their section for beautiful, feminine WordPress themes. If you like something, check out the seller's other goods, because they might have matching design elements you can use for other projects your brand needs.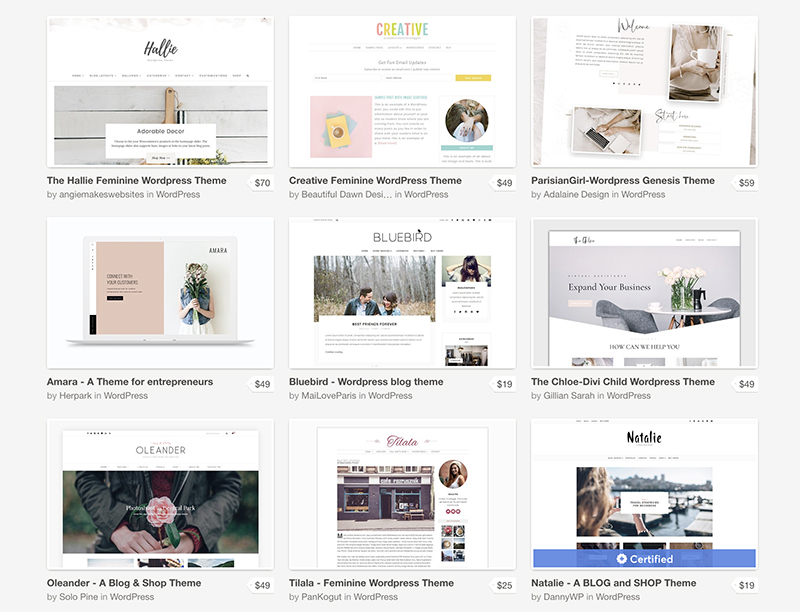 ---
Install WordPress with a Click
Click here for my five-minute guide to set up WordPress and your theme.
WordPress Hosting
Today, pretty much any web host you go with will have one-click WordPress installation. For my other websites, I tend to use Bluehost.
For this site, I use Kinsta for managed WordPress hosting. It's extremely fast and their customer support is highly responsive, ready to chat at a moment's notice. It's also easy to have a staging version of my site and a live one, in case I want to test customizations or get it ready for publishing before launching the website for the first time.