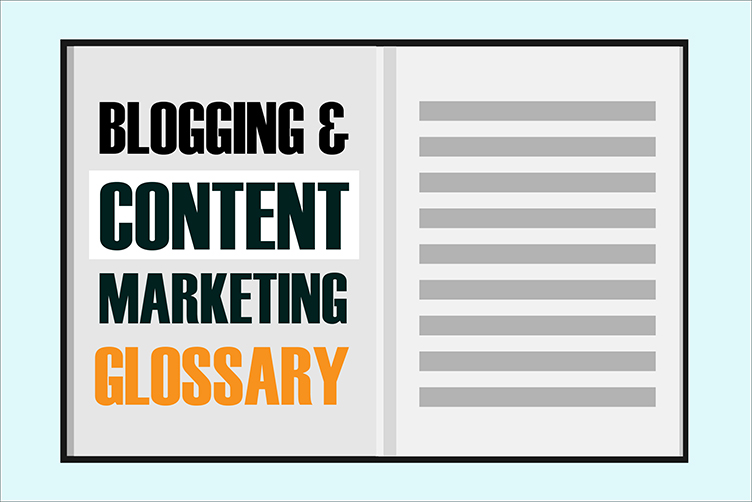 This glossary of content marketing jargon and blogging terms and definitions is a great introductory blogging lesson in its own right. Look up terms, refer to it when you see a word you don't recognize, or just browse this content marketing glossary to learn something new!
(Posts may contain affiliate links that modestly compensate this site.)
Content Marketing Glossary
A
A/B Testing: Also known as split-testing. A/B testing means creating two versions of an ad, landing page, e-mail, or other variable, and running tests to find out which performs better. Dedicated marketers even split-test variables like link colors and fonts.
Above the Fold: Content appearing on a page before the user scrolls. This is your most important opportunity to grab your user's attention. Google doesn't reward sites that have too much ad content above the fold.
Ad Network: Ad Networks are like middlemen who connect webmasters to advertisers and automate ads. Different ad networks have different requirements to join, such as minimum monthly traffic.
Adsense: The ad network owned by Google. Adsense can auto-generate ads on your site in spaces you specify. Sites that participate in Adsense's program are paid per click. The amount made per click depends on the advertiser, which depends on the site content.
Affiliate: Affiliate marketing allows bloggers to earn referral commissions by placing product links on their site. Whenever a person clicks the link and takes some action, the blogger will be compensated. (Also: Affiliate Program, Affiliate Network)
Algorithm: Different web platforms use algorithms to determine how user content appears on the site. The term usually refers to the Google Algorithm that determines search ranking factors. The bigger Google Algorithm Updates can kill sites overnight without warning, so SEO strategists are careful to stay on Google's good side.
Alt Text (or Alt Attribute): An HTML designation of alternative text for a given photo, link, or other media. It helps search engines and visually impaired site visitors understand content.
Analytics: Analytics are the measurements of your site's traffic and other data. Tools like Google Analytics give you insight into your monthly unique visitors, session time, bounce rates, and other activity. Data is crucial for optimizing your site and content marketing strategy. Analytics data is also expected when you apply for ad networks or decide to sell your site.
Anchor Text: The clickable words used for a link. Google considers the anchor text in backlinks when ranking pages. Google's spiders also try to determine if a site manipulates its rankings, and can penalize sites that use too much exact-match keywords in backlink anchor texts.
Authority Site: This term came about in opposition to the popular niche site model affiliate marketers use to make money online. As opposed to a small niche with thin subject matter and content, an authority site is broad in its scope and uses longer-form content. It dominates its subject matter and, as the name suggests, is considered to be authoritative.
Authorship: Authorship was once a type of markup that Google used to show a post's author in search results. It is no longer used by Google. However, the term may still be used to refer to an author's body of work and web presence.
Autoresponder: An autoresponder is used in e-mail marketing. Once members sign up for an e-mail newsletter, an autoresponder will send pre-written emails in a certain order within a certain span of time. This is as opposed to e-mails that are real-time updates.
B
Backlink: Backlinks are any links to your site from other sites. They influence your Google rankings and affect the score known as your Domain Authority (DA). Considered the holy grail by SEOs (search engine optimization experts), there is a fine line between spam links that hurt your site and quality backlinks that actually help.
Blackhat: Blackhat refers to SEO (search engine optimization) techniques that aren't approved by search engines. They are intended to fly under the radar and get quick results ranking a website. However, blackhat techniques are known to be penalized in search engine algorithm updates, rendering entire sites obsolete and de-indexed by Google entirely.
Bounce Rate: The bounce rate measures how many readers click the back button when they arrive on your page from a search engine result page and don't return. They interacted with only one page on your site.
Buyer Persona: In marketing, buyer personas are profiles of a business' typical demographic groups. By creating a buyer persona, businesses and blogs can get very specific on who they're writing for, and engage with them better.
Buying Mood / Intent: Buying mood refers to capturing traffic from web browsers who are specifically ready to buy something. Good content marketing strategies find keywords in their niche that users ready to make a buying decision use, and then target those keywords with search-engine optimized content. The same applies to paid media and advertising campaigns when businesses optimize multiple landing pages for a variety of buying intents.
Byline: A byline is the line that credits the author of an article or post.
C
Canonical URL: A canonical URL is the one Google considers the original. A post shouldn't be posted in more than one place on the internet. But when it's done, it's important to use markup to specify a canonical URL.
Category: Categories refer to the sections of a blog that organize its content into different subjects. It's helpful to think about categories before starting, and to keep categories about equal in size over time.
Crawlers: A word for Google's robots that regularly follow links around the Web to index content.
CMS (Content Management System): CMS are the platforms like WordPress that can manage posts, authors, users, media, and more for a website or blog by using databases.
Cornerstone Content: Cornerstone content refers to the most important post or posts in each category of a blog. They are high-impact, longform, and actionable. Cornerstone pieces must be established and reinforced through an internal linking strategy.
Conversion: Conversions occur whenever a visitor to your site performs a desired action. The action could be buying a product, clicking through an affiliate link and making a purchase, signing up for an e-mail opt-in, or some other goal.
CPA (Cost Per Action): A system in which advertisers pay for every acquisition or action. The action could be an email signup, a form submissions, a membership, or a sale.
CPC (Cost Per Click): The amount of money an advertiser is charged by an ad network for each click on one of their ads. When doing keyword research, you'll be able to see this variable.
CPM (Cost Per Impression): Advertising model that charges for every 1,000 impressions.
CTA (Call to Action): A CTA is a direct and clear instruction for your site visitor to do some desired action. A call-to-action could be anything from a Youtuber saying to like and subscribe to their channel, or a blogger saying to sign up for their e-mail list.
CTR (Click-Through-Rate): A measurement of how many people clicked a given link versus how many people were on a page that loaded it.
D
Display Advertising: Display advertising is a type of pay-per-click (PPC) advertising that puts ads on third-party sites.
Domain Name: Your domain name is your site's name as it appears in your URL. This site's domain is creatoko.com.
Domain Authority (DA): The SEO giant Moz created this measurement of your site's reputation with search engines like Google. From 1 to 100, a higher score means a higher likelihood to appear in search result pages.
E
E-A-T: Expertise, Authoritativeness, and Trust. This acronym comes directly from Google's quality guidelines for the purpose of evaluating websites and how they should rank in search results. Site topics that fall under another acronym, YMYL (your money or your life), such as health and finance, are held to higher standards of EAT.
Editorial Budget: A content plan used traditionally by newspapers and magazines for a given issue. Today, it can apply to blogs and other media. It lists planned content, assigned writers, and deadlines for submission, review, and publication.
Editorial Policy: An editorial policy determines the standards and ethics to which your content will adhere. You can post it as a page on your site, but it's not necessary to do so.
Engagement: Engagement refers to the measurement of people who not only saw a piece of content, but interacted with it by liking, sharing, commenting, or some other action.
Exact-Match Keywords: A keyword that is the exact target search term. Used to describe keywords in on-page SEO body text as well as keywords in anchor texts of links.
F
Featured Image: WordPress allows you to set a featured image for your posts. Depending on the WordPress theme you're using and your settings, it can appear in your thumbnails for the post around your site and/or within the post itself.
G
Google Hummingbird: One of Google's large updates.
Google Panda: One of Google's large updates.
Google Penguin: One of Google's large updates.
Google Pigeon:
Google Rank Brain:
Google Medic:
H
Headings (H1, H2, H3): Headings are the titles and subtitles in your blog posts. H1 should only be used for your post's title and will be taken care of for you by your blog's theme. The other headings can be customized for style and font size.
Hero Content: Hero content refers to the posts in your content strategy that are not as frequent as regular content, but have massive impact as they go above and beyond in their reach and appeal. They're the pieces that will get new people to your site to take a look at your regular content.
Hosting: Hosting refers to the types of servers that will store your website and the companies that own them.
I
Indexing: Refers to a site being recognized by Google and listed in search results. Sites are indexed by Google's robots (also called Web crawlers or just crawlers) that regularly examine the Web. Webmasters can submit a site map to Google or fetch individual pages to speed up indexing.
Infographic: An infographic is an image that makes data easy to understand visually. They're popular on Pinterest and get shared on social media, and therefore make a good way to get backlinks and traffic.
Internal Links: Unlike backlinks, which are links to your posts from other domains, internal links are the links you post to your own content from other areas on your site. Internal linking is also important for SEO, as it can signal to Google which posts on your site are the most important. You can use internal links to build content pillars with important cornerstone articles.
K
Keyword: Keywords are search engine phrases a blog post aims to rank for in search results.
Keyword Research: Keyword research is the analysis of how popular various search terms are in Google, how competitive they are, and how much advertisers pay for them. It's typically done with tools like Google's Keyword Planner or third-party applications like Moz or Ubersuggest.
L
Landing Page: A landing page is a page written for the purpose of getting readers who arrive there to convert by signing up, purchasing, or performing some other action.
Listicle: A term given to list-style articles and blog posts. Although listicles were notoriously popularized by Buzzfeed, there is evidence that post titles with a number or list get a high click through-rate. They do even better with odd numbers.
Long-tail keywords: Long-tail keywords are long, specific phrases instead of a broad search query. They generally have less traffic, but potentially less competition as well. Marketers go after long-tail keywords in order to rank high in search engines more easily.
LSI (Latent Semantic Indexing): Technology that allows robots to understand nuances in language. SEOs use the term to refer to the assumption that search engines can understand synonyms to determine how a piece of content ranks for a target query. However, the usefulness of this SEO technique is debated.
M
Metadata: The data for a piece of content including author, date, and description.
Meta Description: The description for a piece of content that shows up in search results pages or social media shares. You can place a meta-description for a WordPress post using Yoast's SEO plugin.
MVP (Minimum Viable Product): A term used by entrepreneurs to describe releasing an initial version of a product as quickly and cheaply as possible. They can then see how it performs, how customers react, and what changes should be made before investing more time and money.
N
Niche: A niche is a blog's subject matter. Once meant to describe websites targeting extremely specific search terms, it's now used for either "niching down" or just for the category a blog is about in general.
O
Opt-in: An opt-in is a form that collects email addresses from users who agree to sign up for emails. Opt-ins often include some kind of incentive to sign up, such as a worksheet or eBook.
Organic: Organic traffic and organic growth refer to achievements made naturally without paid traffic through ads or other techniques. It usually means a site gets word-of-mouth interest or naturally ranks well in search engines without advertising or complicated techniques.
P
Page: A blog page is different than a blog post because it typically doesn't have a date or author byline. Pages are usually used for things like legal pages, contact forms, or landing pages.
Page Builder: A page builder is a type of WordPress plugin or theme that enables a drag-and-drop design interface.
Paid Traffic: Traffic that arrived from ad and media buying rather than from "organic" traffic.
PBN (Private Blog Network): Several blogs owned by one entity and used to artificially boost the backlink profile and rankings of certain sites within it. It's a blackhat technique, and sites that do it can get penalized when found out.
Permalinks: This is a WordPress setting that determines your URL structure. You can include categories in the URL, or choose not to to keep your URLs short and less likely to change.
Plugin: Plugins are third-party apps you can add to WordPress.
Post: Unlike a blog page, a post will have an author byline and date, and will be organized under categories and curated in order.
PPC (Pay Per Click): Advertising that charges advertisers and compensates publishers for every click an ad receives.
R
Responsive: A responsive site is one that has different, appropriate appearances on different devices such as desktop, tablet, and mobile. Most current WordPress themes are responsive.
Retargeting: Retargeting is the practice of making ads appear elsewhere for users who have been to a certain page on a site before. Marketers can use different pages with different retargeting pixels to capture different user intents, and make unique ads for each intent.
ROI: Return on Investment.
S
Sales Funnel: Refers to a journey that users go through from first arriving on a site to making purchase(s). Typically the journey involves opting in to receive e-mails in exchange for a freebie. Then, e-mails offer further solutions to the user's issues and intent.  A sales funnel can also involve upsells.
Search Volume: The average number of monthly searches for a keyword or phrase in Google. Search volume is the most important part of keyword research.
Server: Web hosts store your site on a server. The cheapest site hosting is on shared servers that keep a lot of sites on them. Dedicated servers and cloud servers are much more expensive.
SEO (Search Engine Optimization): The practice of optimizing a site or page to rank well in Google. It involves both on-page SEO by formatting posts in a way that Google likes, and off-page factors like backlinks.
SERP (Search Engine Result Page): The search results, of which the first page is the only one most people see. The 1-4 spots are considered to be the best.
Skyscraper Content: A technique to rank blog posts by looking at the top results for the target terms in Google, and writing a better, longer, and more authoritative post than those results.
Slug: A blog post's slug is the post's unique URL phrase. For example, this post's slug is blogging-terms-content-marketing.
Social Sharing: Your users posting your content to Facebook, Twitter, or other sites. You can enable social share buttons on your WordPress page through your theme or plugins.
Split Testing: See A/B testing.
Sponsor: A sponsor is an entity that has paid to be mentioned content that a blogger or other content creator posts.
Structured Data: Refers to adding code or markup to sections of a post to help search engines understand what the piece of information is. Markup might be for reviews, business hours, instructions, and other helpful indexing points.
Style Guide: Traditionally used by formal media outlets, style guides are a set of grammar, formatting and style rules for writers and editors to help create a unified voice for a publication. A style guide can be a broadly accepted one such as the AP Style Book or Chicago Manual, but can also be created by editors for one specific magazine, blog, or site.
T
Tag: Tags are another way to organize blog topics. They're more specific than categories, but less prominent in the site's menus. It's important to be consistent with tags so that you don't end up with several for the same thing.
Taxonomy: A site taxonomy is the way a site organizes and handles sections like categories and subcategories in general.
U
User Intent: Content marketers must figure out what a person wants to do when they land on a certain part of the site, and organize those intents for conversions and campaigns.
W
Whitehat: A term meant to contrast with blackhat SEO. Unlike blackhat techniques, whitehat SEO is organic, natural, and focused on great content without shady tactics.
Widget: Widgets are the sections of your sidebar that you can drag and drop in WordPress.
WordPress: WordPress is the most popular content management system for blogs and media outlets. The version bloggers use is the open-source software from WordPress.org. Hosts allow you to install it with one click. See the guide to set up WordPress correctly here. It is not the same as WordPress.com, which is a private website where you can make an account.
V
VA (Virtual Assistant): A remote worker who can assist with tasks of all kinds, freeing you up to produce more results.
Vertical: A vertical is the business sector or topic you're in.
Y
YMYL: An acronym used by Google that means Your Money or Your Life. It refers to subjects that can greatly impact audiences, such as health or finance. YMYL topics are held to higher standards — they must show signals of high EAT (Expertise, Authority, and Trustworthiness) to rank in search results.
Yoast: Yoast refers to the extremely popular and widespread WordPress plugin that gives you live feedback when editing posts to make your on-page SEO better.